'Why Don't You Just Advertise to Me?'

The potential of print advertising vs. hideous lead-gen.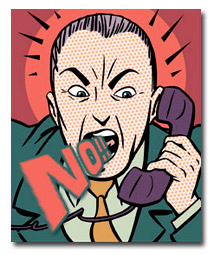 I must be on some list or in some business databases. As the president of a small company, there are some weeks when I get three or four calls a day from salespeople trying to sell me HR services, healthcare plans, consulting services, etc. … This induces cruelty to telemarketers, which I have been known to practice. It's very annoying and I don't feel good about myself afterwards.
Increasingly, I find myself chanting some variation of the mighty McGraw-Hill advertisement known as the "Man in the Chair," perhaps the greatest ad for business-to-business advertising ever created. "I don't know your company. I don't know what your company stands for. I don't know you." Until … "Now, what was it you wanted to sell me?"
Now, I do buy HR services. I have a healthcare broker, a 401K advisor, a bank, all of these things. I would love to learn about alternate vendors. But I don't want to be bothered or harassed by a stranger on the telephone. I read Inc. magazine and New York Enterprise Report (great magazine – full of tips). And I read the ads. I rip the ads out and put them in folders. I refer to them and I will contact YOU when I am ready to switch.
This little story illustrates the potential of print advertising versus the hideous "lead generation," currently the rage in the IT market. I am not a lead, don't call me. Advertise to me and I will call you when I am ready to buy.
[image: credit]
Meet the Author
---