Why Does Burkle Want American Media?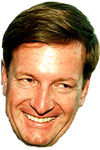 Slate's Mickey Kaus has a nice extrapolation on what's behind Ron Burkle's pursuit of American Media Inc.:
Soon he'll presumably have the power to kill any scandalous story in the Enquirer
or Star that might hurt his friends (the Clintons). And he'll have the power to run the stories that will hurt his enemies. And for those who might help the Clintons now (by, say, splitting the anti-Hillary vote) but hurt them later–well, he'll be able to choose the timing of any further exposes. … Look at it from the point of view of the aptly-named David Pecker, head of AMI: If you assume Burkle wants AMI's publications in order to gain political influence, when is the time at which Burkle would pay the maximum price? Right before the campaign starts in earnest. In fact, you might pinpoint Pecker's maximum leverage as coming a couple of months before the Iowa caucuses.
More here …
Meet the Author
---