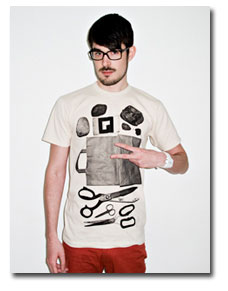 Sure, manufacturers of e-reader technology tout the convenience that consumers can gain from having access to all of their favorite books and/or magazines on one portable device. But imagine if you could read a magazine article right from—ahem—the shirt on your back?
Well, you can. Created by a Sweden-based company of the same name, T-Post—which calls itself the "world's first wearable magazine"—is a graphic T-shirt with a news story printed on the inside and a graphic artist's interpretation of the news story printed on the front.
Strange, right? Absurd? Most definitely.
The T-Post is sold via a subscription-based model—customers sign up online and shell out 19 Euros, or about $26. Three weeks later they receive their first T-shirt and a new one arrives by mail every six weeks after that.
T-post currently has 2,500 subscribers in more than 50 countries; 400 subscribers are from the U.S., which the company says is its fastest growing market.
According to publishing director and editor-in-chief Peter Lundgren, the process of choosing news stories is a collaborative one. "It all starts with the news editor. He keeps in touch with news blogs all around the world, scans newspapers and connects the dots," he wrote in an e-mail to me. "From there, the whole editorial team sits down and decides on which story to run. T-post stories often consist of two or three different news stories and reflections that we think have some connection to each other and are intriguing enough to tell our subscribers. Our stories usually end up living somewhere in-between a news story and a column."
T-post's most recent "issue" features a news story entitled "Higher Education," which explores how more college courses are focusing on topics like marijuana use and cyber porn. The front of the shirt—interpreted by Swedish designer Marc Stromberg—features a collage of rocks, paper and scissors in reference to the last sentence of the article: "Who knows, perhaps a course in the game Rock, Paper, Scissors could come in handy when negotiating big business contracts."
And T-post took the "Rock, Paper, Scissors" concept virtual by adding an augmented reality feature, enabling "readers" who wear the that particular T-post in front of any Web camera and play a game of—you guessed it—Rock, Paper, Scissors against a computer-generated arm that extends from the shirt itself.
Take that, e-readers.
Or maybe not.