Wholesaler Collapse Contributes to Full-Year Loss for Future US

Newsstand disruption primary cause of Group shortfalls, says a trading update.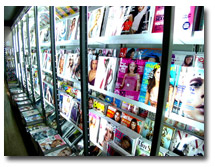 The newsstand chaos triggered by the shutdown of Anderson News in February exacerbated an already grim single-copy market for many publishers, but by how much is still largely being measured as numbers make their way in from distributors. Future plc, however, reveals that the wholesaler disruption created a significant revenue shortfall.
The British enthusiast publisher with a U.S. Group based in San Francisco, just released a pre-close trading updatefor its September 30 year-end that provides a glimpse at how a drastic drop in newsstand sales can impact overall financial performance. It also reveals the difficulty publishers have in forecasting results—in just four months between the release of fiscal first-half financials and the trading update, Future US swung from predicting year-end profits to forecasting a loss, due largely to newsstand performance.
It should be noted that Future US was among the top 20 newsstand publishers in 2008 based on retail sales, according an April reportby AD. The newsstand is a significant part of the Group's circulation revenue, which itself represented 45 percent of Group revenues according to the company's first-half 2009 financials.
At the end of Future plc's half (March 31, 2009), the U.S. Group
reported an overall circulation decline of 18 percent. Within that was a 21 percent drop in newsstand sales. A major portion of Future's newsstand circ was impacted by the Anderson shutdown and subsequent scramble to get copies on shelves.
According to company reports, the "newsstand was adversely affected by an unexpected disruption to distribution of up to 40 percent of our newsstand magazines, following a dispute among wholesalers and distributors in the North American magazine market."
That disruption, says the company, resulted in an estimated $1.1 million drop in EBITA for the first half—total EBITA fell $2.5 million for a -7 percent margin for the half. Future plc was nevertheless optimistic that, despite a 22 percent drop in advertising as well, the US group would regain profitability by the end of the fiscal year. That won't happen.
In the pre-close update released this week, the U.S. business, which represents 30 percent of revenues, will report a loss for the year. This, says the company, is "primarily due to further revenue shortfalls caused by the continuing impact of the unprecedented US newsstand
disruption reported earlier in 2009."
The company adds that estimates might be updated as returns continue to come in.
Future US declined to comment for this story, noting that it's still reviewing and finalizing budgets.
The wholesaler mess was felt by the entire industry. That, combined with already poor retail sales, resulted in a 15.4 percent unit sale drop and a 14 percent revenue drop, according to a report for AD by newsstand consultant Baird Davis.
In the meantime, Future US points to recent launches—its DailyRadar network of sites that attracts 25 million monthly uniques, and the Blizzard Entertainment partnership and quarterly World of Warcraft
gaming title—as efforts of continued investment to drive more revenue.
The company also just announced the appointment of John Marcom Jr. as president of the U.S. Group, replacing Jonathan Simpson-Bint who left the company in August.
Meet the Author
---