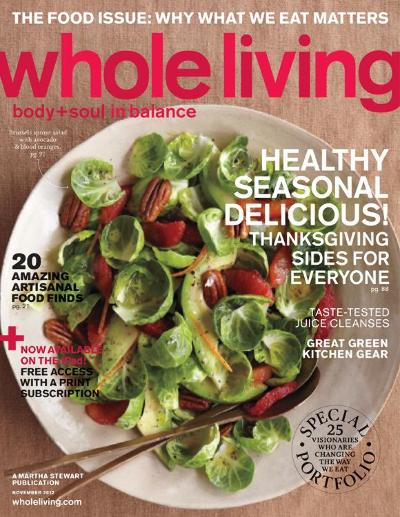 *Editor's Note: This story originally appears on FOLIO: sister site, minonline.com
Whole Living, the 10-times-a-year spiritual/lifestyle magazine owned by Martha Stewart Living Omnimedia since Aug. 2004, folded on Dec. 6.
Per the New York Post (Dec. 7), MSLO CEO (since May 2011) Lisa Gersh was in negotiations to sell WL to TV Guide parent OpenGate Capital, but when the talks collapsed, the plug was pulled.
OpenGate CEO Andrew Nikou told the NYP that "the business was losing too much cash and need a lot more to operate as a going concern." Yet, the financial circumstances at TV Guide were somewhat similar in Oct. 2008 when Nikou picked up TVG from Rovi Corp. for $1 plus assumption of debt. (The difference was that TVG had a greater cash flow.)
Whole Living was the Massachusetts-based Body + Soul when then-MSLO CEO Sharon Patrick engineered the purchase from Dr. Andrew Weil's New Age Media eight years ago. Renaming came in June 2010, but WL's 760,606 circulation (per the Alliance for Audited Media/first-half 2012) was deemed too small in competing with much larger rivals Fitness, Prevention, Self, and Shape.  Ad pages in 2012 totaled 528.65 (per min's boxscores), -5.70% versus 2011.
Gersh had announced in November MSLO's intention to close WL if a buyer was not found by year-end. Concurrently, MSLO's eight-year-old Everyday Food is being absorbed into the Martha Stewart Living flagship effective in 2013.
WL's final issue will be Jan./Feb. 2013.