Who Would Buy Newsweek?

A glance at Newsweek's profit fallout and who might be pondering a bid.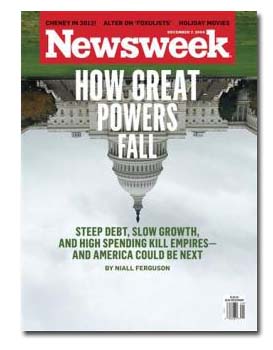 After years of hefty losses, the Washington Post Company Wednesday said it had hired media and entertainment investment bankers Allen & Company to explore a sale of ailing Newsweek magazine.
What does the market look like for a sale of Newsweek, a magazine that has been losing millions of dollars year-after-year? In 2009, Washington Post Co.'s magazine division, (which also included Budget Travel, until it sold in December) reported an operating loss of $29.3 million. "The losses at Newsweek in 2007 to 2009 are a matter of record," Washington Post Co. chairman Donald E. Graham said. "Despite heroic efforts on the part of Newsweek's management and staff, we expect it to still lose money in 2010."
Just last year, with the economic recession still rolling, several interested parties—including Joe Mansueto, ZelnickMedia and Platinum Equity— stepped forward when McGraw-Hill put BusinessWeek, a magazine that reportedly lost more than $40 million the year before, on the block. It eventually was acquired by Bloomberg LLC for only $5.9 million, after tax.
One might assume that Newsweek could muster just as much interest. In fact, some parties apparently have already expressed an interest. Editor Jon Meacham told the New York Observer that he was contacted Wednesday by "two billionaires" who inquired about buying the magazine. Meacham himself said he'd consider rounding up some investors to place a bid. And then there was Henry Blodget, CEO and editor-in-chief of Business Insider, who offered only $1. (Remember OpenGate Capital's $1 acquisition of TV Guide from Macrovision in 2008?)
Jokes aside, I polled a small handful of our sources in the M&A market to pull together a list of companies/publishers that may make good suitors for Newsweek. Among them were OpenGate, Reuters, Politico, Dennis Publishing (owner of The Week), Newsmax, Tina Brown's the Daily Beast and the Huffington Post. I fired off e-mails to reps at all but Reuters and the Daily Beast but couldn't immediately reach any for comment.
Some, of course, seem more likely than others. Upstart Politico, which is backed financially by Allbritton Communications owner Robert Allbritton, would make an interesting suitor if for no other reason than it was co-founded by Washington Post defectors John Harris and Jim VandeHei. Newsmax, which one source tells me will "very possibly" make a move for Newsweek, would be an interesting buyer because the Republican news monthly effectively could  snuff out a liberal-leaning rival. I'm sure Dennis Publishing owner Felix Dennis is still flush with cash after the sale of Maxim. But would the outspoken entrepreneur actually get involved?
No doubt, it will be difficult for any potential player to justify buying Newsweek. The lag time between closing a deal and somehow making it profitable again would be long and weighed down with additional losses.
A strategic buyer with deep pockets would make the most sense—a company that thinks buying Newsweek would add to the value/profitability of its own core business. That's essentially what happened with Bloomberg and BusinessWeek. Not surprisingly, though, Bloomberg already has said it is not exploring a bid for Newsweek.
Would others like Time magazine parent Time Warner or The Economist Group be willing to take the risk? I'm not so sure.
Meet the Author
---