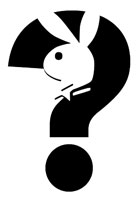 Playboy Enterprises announced yesterday that Christie Hefner, daughter of founder Hugh Hefner, will step down from her chief executive position early next year after 20 years on the job. While the company searches for her replacement, board member Jerome Kern will serve as interim chairperson.
While it was unclear whether Hefner is stepping down voluntarily ("I
have decided that now is the time to make changes in my own life,"
Hefner wrote in a statement Tuesday) or because she was forced out by
the board of directors, one thing is certain: whoever replaces Hefner
as CEO will be charged with dramatically growing revenues in all
aspects of the business.
Through the first nine months, the company reported a net loss of $10.4 million compared to a $6 million net income during the same period last year. For the third quarter, Playboy's publishing group reported a segment loss of $1.3 million, up slightly from a $1.4 million loss during the same period last year. The entertainment group reported a profit of $2.8 million for the quarter, down from $7.2 million last year. (Playboy also eliminated 80 staffers company-wide in October in a cost-cutting effort.)
Taking Stock
"The company's stock price is down significantly," said Steve Marascia, a research analyst with investment firm Anderson Strudwick. "They need to find someone who can bring some new ideas to the table and who can help come up with an effective corporate strategy in order to grow revenues, especially in the entertainment section—in terms of the TV networks and online business—and potentially stem the tide in the magazine operation. Like other magazines throughout the industry, Playboy's print advertising revenues have been declining. The entertainment businesses have not been generating as much revenue as they hoped for."
As of morning trading, Playboy's stock price was $2.02, down 5.17 percent from the previous close. Late last month, the stock hit a 52-week low at $1.03. Until May, the stock was trading well above $8 per share.
So, will Playboy look inside or outside of the publishing industry to find its next CEO? A Playboy spokesperson did not immediately return a request for comment.
"It depends on who is looking for the new CEO and how much influence Hugh Hefner will have on the decision," one knowledgeable industry observer told FOLIO:. "I suspect if he is calling the shots it will be a magazine industry person and if he is not it might be someone outside the industry with more online and entertainment expertise."
While he declined to speculate on any specific replacement options, Marascia said the search will be wide. "I think they will look in all areas," he said. "Whoever takes over has to be able to manage the magazine, online operations, video and TV networks. It will be a wide search."