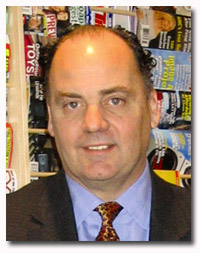 SEE RELATED: French's memo
It's been a few hours since John French announced to staffers through an internal memo that he was stepping down as CEO of Penton Media, yet industry observers have already begun speculating about who will succeed him at the helm of one of the biggest b-to-b publishers in the country.
In the memo, French indicated that he will stay on as a member of Penton's board of directors and will remain CEO until a replacement is made. A Penton spokesperson told FOLIO: that the search is set to begin, and that while the company "will explore all of its options," the focus will be on external candidates.
"I think they'll look at combination of people with business media and information experience and also people who have deep experience in nontraditional b-to-b media, including e-media," says Oakstreet Media CEO, and former Penton CEO, Tom Kemp. "Are they going to look at someone like [Jordan, Edmiston Group managing director] Michael Marchesano? Who knows? Whoever the replacement is will be a surprise, I think."
"Looking around, there doesn't seem to be too many options," says another industry source who wished to remain anonymous. "Who's out there now, and available, who would be interested in running a large multi-vertical, print centric publishing company like Penton? It's not clear."
Another source said it's possible—perhaps likely—that Penton will reach
outside the ranks of print-centric b-to-b media and seek an executive
with an interactive media experience. If so, Penton would be attempting
a move that has almost always failed in the past. In the late-1990s, a
handful of b-to-b media companies brought in e-centric executives, most
notably Cahners Publishing, which hired Marc Teren. Teren left after a
brief and apparently stormy tenure.
Tough Job, Tough Year
Whoever gets the job will be inheriting a company that has gone through a number of dramatic changes this year. Early last month, Penton laid off 42 staffers in an effort to reduce costs. In April, French called for salary and hiring freezes, and has launched a company-wide revenue reforecast for the remainder of 2008.
The company-wide reforecasting is ongoing, according to the Penton spokesperson.
"Media in general right now is going through huge secular changes as it transitions from traditional properties to digital, which is complicated by tough economic times," Kemp says. "From Penton to Ziff Davis Media to Hachette, you name it—being a CEO of any traditional media company these days is a tough job."
Where Did It Go Wrong?
Meanwhile, there is speculation about precisely why Wasserstein and French decided to part ways. The company's revenue shortfalls are well-known, thanks to French's memos to employees. What is less well known, one source said, is the trouble the company is having in the back-office services area. When Penton merged with Prism Business Media, the internal goal was to save approximately $10 million in support services such as accounting and circulation. "They've had problems integrating the business," the source said. "They shut down accounting in Overland Park, Kansas, and fired all the people there. They tried to do a huge merger too quickly just to get the cost savings. And it's been a mess. That's what you don't hear. Internal management can't get the information they need to run the business."