Where We Go From Here: Paid vs. Free, Advertising vs. Marketing, Content and Commerce

Leaders debate future rev models at DeSilva + Phillips Dealmakers Summit.
Future Revenue Models for publishers dominated the discussion at the DeSilva + Phillips Dealmakers Summit 2010 last month.
"We believe in content but we're struggling to monetize it," said Jeff Horing, managing director of Insight Venture Partners. "It's not really an issue now but it could be a problem in five years when we try to sell the business."
Magazines remain a more attractive opportunity than newsletters. "We would not invest in newspapers," said Richard Zannino, managing director of CCMP Capital Advisors (which owns Hanley Wood). "With magazines, maybe. Newspapers have a fundamental issue where they don't deliver as much value as their alternatives. With magazines, that issue doesn't exist as long as they're targeted to an attractive niche market."
Bloomberg chief content officer Norman Pearlstine explained what BusinessWeek offers. "Think of BusinessWeek as part of the whole Bloomberg ecosystem," he said. "It starts with a terminal where people pay $20,000 per year which offers access to news and data. BusinessWeek offers access to the executive suite."
Pearlstine also expressed his doubts about the viability of pay walls. "In our experience, you can charge a lot of money for specialized information for an audience with a need for it," he added. "But for general interest, the value isn't there."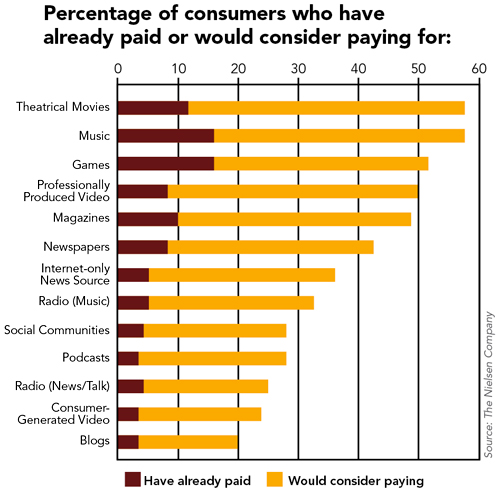 Making Online Advertising Work
While nearly all the conference participants seem to agree that online display advertising doesn't hold much promise, some participants said advertising could work if it's part of a more in-depth package.
"I would be scared to invest in creating content if the only way to get your money back is banner ads," said Matthew Bromberg, CEO of online startup Major League Gaming. "However, our players pay to play and we do multi-year sponsorships and branded content."
Publishers shouldn't be afraid to ask more of marketers, Bromberg added. "People don't require enough from buyers. An advertiser will come in and say, 'We want to move the needle.' OK, to do that you need to be on our site for a year and build a connection with our audience."
Huffington Post CEO Eric Hippeau said there is opportunity in a merger between classic CPM-based advertising and social media. For the Olympics, marketers like HBC sponsored blogs and Twitter feeds for a fixed fee. "The money being spent on Facebook is not coming from advertising budgets but promotion and marketing," Hippeau said. 
A Content/Commerce Hybrid?
Others are looking to a combination of commerce and content. "Content monetization with e-commerce is very interesting," said Horing. "Today, if I have new content for moms, it's easier to white brand a store with that than trying to make money off something like Procter & Gamble advertising—there's too many middleman trying to get a margin on that."
Meet the Author
---