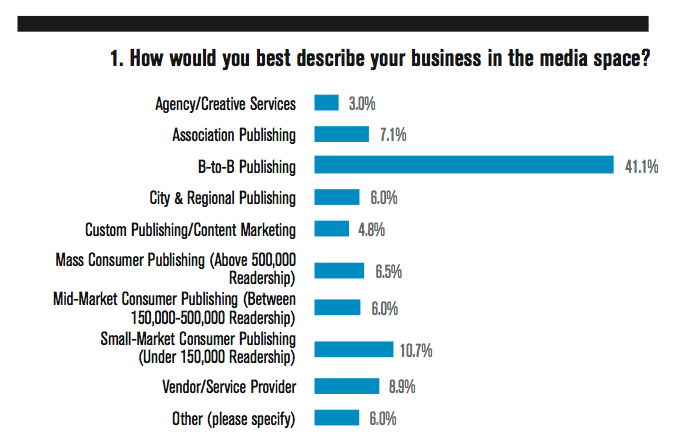 The recognition that selling ads alone is not a sustainable growth strategy has pushed publishers into a variety of new revenue sources. To learn more about how media companies are applying their resources against a diversified product portfolio to generate more growth, Folio: teamed up with Hallmark Data Systems for a short survey to understand current revenue sources, growth potential and areas of investment.
Results indicate that print is still the primary revenue source for respondents, and it's likely to stay that way in the near future, even as other revenue sources, such as digital and events, are seen as bigger growth opportunities.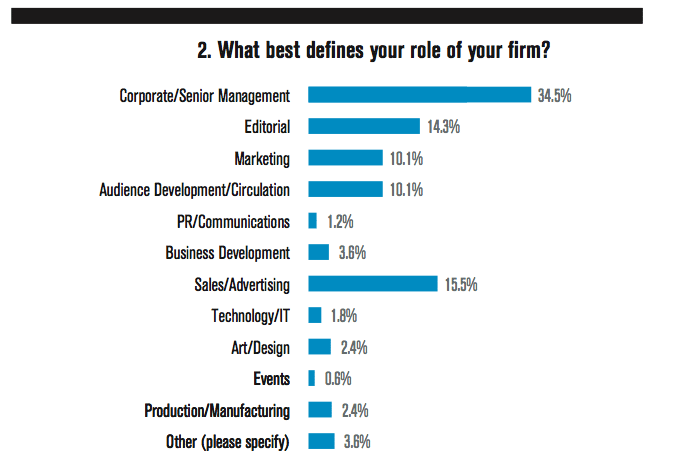 The survey was conducted in November to gain an empirical data set around revenue sources, perceived growth opportunities and where investments are being made to facilitate that growth. There were 168 complete responses tabulated.
While it may be no surprise that print still leads in revenue and digital and events are on the rise, results show that print is nevertheless getting less attention than other platforms as a growth priority.
Respondents primarily identified with B2B publishing, making up 41 percent of the pool. Adding up the consumer segments, about 23 percent of respondents are from the consumer publishing market.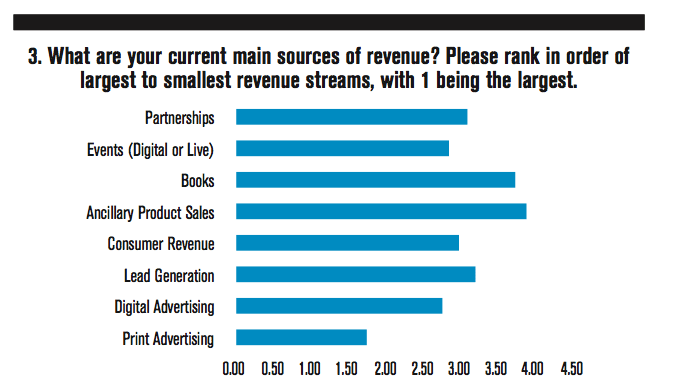 Most respondents characterized themselves as corporate or senior management (34.5 percent) with editorial, marketing, sales and audience development closely split among the disciplines.
Main revenue sources coalesced around print advertising, digital advertising, events and consumer revenue. Surprisingly, given the high percentage of B2B respondents, lead generation is not very high on the list as a main source of revenue. Ancillary product sales are simply not a priority.
Future Revenue Growth Will Be Events and Digital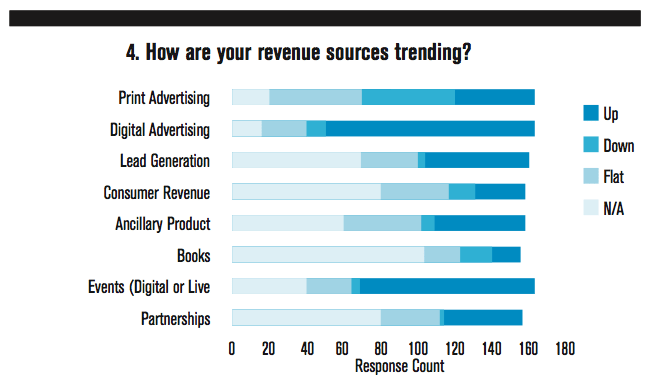 Looking into the near future, however, that ranking starts to flip. As a trending revenue source, print is expected to be flat or down while digital and events are expected to go in the opposite direction.
And over the next three years, respondents indicate that digital may finally edge past print as the largest revenue source. The results paint a delicate picture for print—while it's a primary contributor today, expectations are diminishing. "Everyone says digital and events are going up," says Steve Crowe, general manager at Hallmark Data Systems. "My take is that while print remains the biggest revenue source, but it's declining or flat—publishers are diversifying into other channels to find growth or protect their revenue base."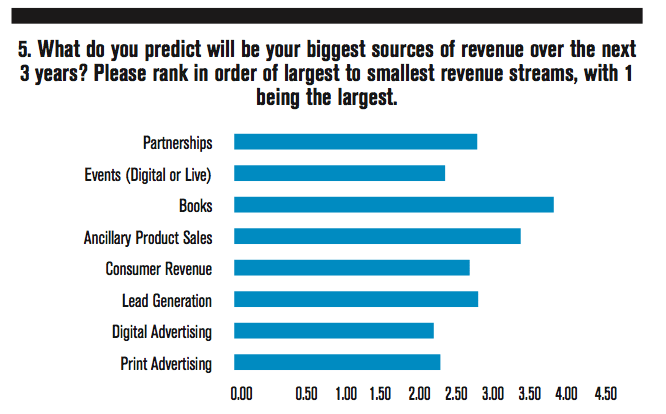 While the technology infrastructure is not seen as an investment priority among respondents (Chart 8), any capital that is being put towards tech is going to data management (Chart 6), according to just over 40 percent of responses. An automated marketing system is a close second, which makes sense given the investment priority on data. You can't really have an automated marketing strategy without a solid data platform.
And while lead generation was not cited as one of the biggest revenue sources three years from now, the emphasis on investing in an email marketing automation systems indicates that respondents are potentially ramping up their lead-gen businesses, since automated marketing is one way to nurture leads from discovery to purchase.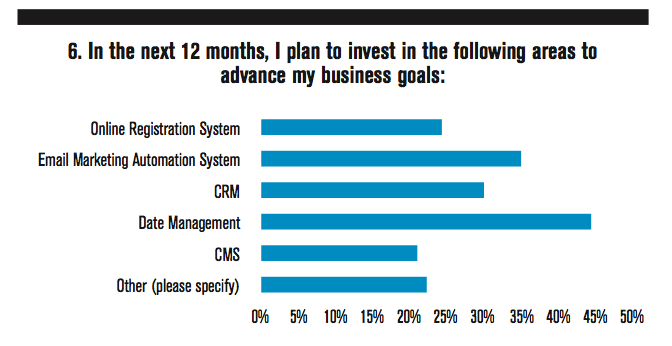 Digital Dominates New Launches

Perhaps the most resounding response appears in the new product launches chart (Chart 7). Here, almost 90 percent of respondents say any new products will be digital. Surprisingly, print is still in the mix with just over 40 percent of respondents indicating they'd still launch a print product. This, in spite of its more negative outlook indicated earlier in the survey.
"Print has such scale, that it's going to be a long time before it's gone," notes Crowe.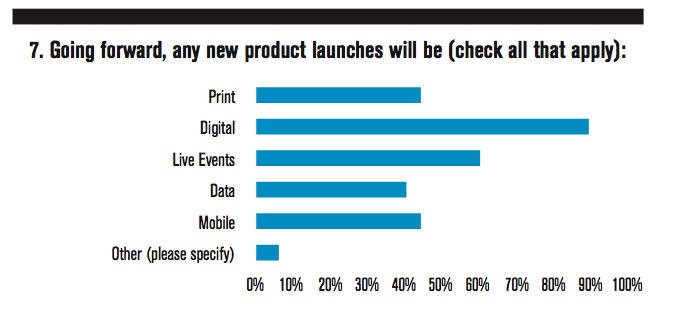 Mobile, despite device ubiquity, is about as likely as print to see a new product launch, according to the results. Many publishers haven't quite figured out the platform yet, or they're reluctant to invest given the monetization challenges. "It's curious why mobile didn't get more attention," says Crowe. "Unless people just don't know what to do with it yet."
That sentiment carries over into the final chart where mobile sits in the middle of the pack as an investment and growth priority. Publishers appear to be taking a wait-and-see approach to mobile. Even though the audience engagement is proven, revenue and perhaps even content formatting are still a ways from a home run for many publishers.