Where Google Misses the Mark for Premium Publishers

Be especially wary of your mobile display inventory.
I love Google. I believe it to be one of the greatest American businesses ever launched. For the last dozen years, I have been a partner as well as competitor to Google. I have seen firsthand the incredible breadth of engineering talent and resources they bring to the market. As a publisher, I was a long-time customer of syndicated Google search advertising as well as embedded, contextual text advertising.
Google is brilliant at serving and monetizing text advertising. Whether done on the search result page or via contextual mapping to page level content into a dedicated module, these are solutions that no publisher can directly offer. These are solutions based on mapping scale of advertisers to scale of potential keywords, something no individual publisher can possibly replicate. The money generated from these placements is incremental and does not compete with the publishers' own direct efforts to sell a similar product.
Display is a different ballgame. A premium publisher's core business is in selling a high-value display placement into their curated environment at a premium price. While programmatic buying is surely challenging the value of this model, it still represents a significant market with hundreds of top-tier brand marketers placing value on the age-old premise of the right ad delivered to the right individual in the right environment.
Google's core display product undercuts this model in damaging ways. Google will serve what its algorithm perceives to be the best possible ad at that given moment. It does not discern the appropriateness of the ad content itself or the economics involved. This often defaults to the lowest common denominator served into a premium display position—a text ad, from a direct response marketer, sold for less than 10 percent of what the publishers' direct sales force is trying (and succeeding ) to get for that same inventory.
This is particularly damaging in emerging areas like mobile. Because most premium publishers don't sell their mobile inventory yet, you often see Google text ads appearing in prime display mobile real estate. Because many of these publishers are using DFP as their first party ad server, Google wisely makes it very easy for them to automate their Adsense backfill.
Here is the prime example. This is a screen shot of The New York Times mobile home page from a few months back. The NYT has not sold this position so it defaults to a backfill solution from Google. This is what served: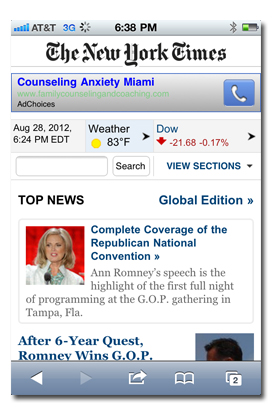 Now I'm an old digital guy and still view the home page of the NYT as a very premium buy. I see top 50 brands paying top dollar to get that position. Google has done a great service to the Counseling Anxiety in Miami advertiser. I wonder if they even know they owned the homepage of the NYT. For the NYT, this is a horrible result. Never mind the poor quality of the ad content and how that sullies the environment for the reader; I'm not sure how their sales team can go to market selling the exclusivity of the placement to their top-brand advertising partners when this is what's running there.
So what can you do if you're a premium publisher with lots of unsold inventory?
1. Put the right resources in place to sell it yourself, and in the way it needs to be sold—as a high-value, high-impact display unit.
2. Work with specialist networks that focus on premium inventory and premium brands.
3. If you're going to backfill, do it via an SSP (Pubmatic, Rubicon, or even AdMeld, which Google owns), where more competition for the inventory should produce better ads and better economics.
4. If you're going to just run Google ads, then have somebody at the switch watching to make sure there are minimum standards of ad content quality and yield.
Don't get me wrong; Google is a great and critical partner to the publisher and would be the first to point out they give the publisher control to manage their inventory. The reality is that most publishers don't have the resources to do this, so they default to something that in the long run undermines their business.   
Be smart. Protect the premium value of your brand and inventory. 
Meet the Author
---