Where the Dollars are Going in B-to-B

Events rebound, marketing services show potential. But can publishers respond?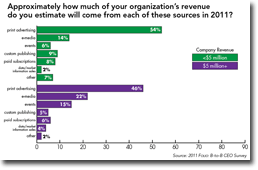 Regardless of an economic turnaround and the emergence of new e-media services, many b-to-b publishers are facing the fact that some ad dollars have disappeared and are not coming back. "A lot of money has left the b-to-b space, probably permanently," says Ted Bahr, president of BZ Media. "Clients that spend $6,000 per month on print might spend $25,000 per month on paid search listings."
The good news is that many b-to-b publishers are uniquely positioned to serve clients directly in new channels—particularly marketing services—provided the publisher understands the new role its playing and puts appropriate resources behind it.
And while paid search may be stealing ad dollars, it also opens up a new opportunity for publishers, according to Bahr. "Clients are spending on custom content," he adds. "I don't think this is just because it is in vogue. What is driving it is the need to improve their Web site's organic returns on search engines—the custom content is an effort to improve their SEO."
Another hidden sponge for media dollars is personnel. "It takes people to analyze the effect of their online marketing efforts, not to mention the gathering, care, and nurturing of leads," says Bahr. "And now with social media opportunities the amount of work one could do to optimize these opportunity streams is almost limitless." But it takes people to do it. Years ago a marketing department might be three people and now it's 10."
Jeff Giesea, founder and former CEO of FierceMarkets, recently launched a company called BestVendor that facilitates social recommendations among buyers and acts as a customer acquisition agent for vendors. "We'll make money by helping vendors find new customers," says Giesea.
Seed funding has come from Giesea and Peter Thiel, one of the first investors in Facebook. The company so far has five employees and plans a series A venture capital round this fall.
Initially, BestVendor will focus on business software applications in the technology startup and creative and design verticals, companies with up to 100 employees. Right now, users can sign up and share their favorite software and, in turn, will be able to view the same from others. "You share a few applications that you use and love and in exchange you see what others use and love," says Giesea. "It's a give to get community. It will take some time to build up our data set."
Longer term, as the data set grows across different business verticals and product categories, the platform will allow users to better navigate their "find and evaluate" purchase phase by browsing what other people and companies are using an recommending. Eventually, BestVendor will have data spread across small to medium-sized businesses in virtually any vertical.
Media Follows The
Purchase Decision Journey

Digital technology advancement has made the buyer the hunter, according to Tony D'Avino, executive vice president at Questex. "An emerging objective for the marketer is to build an audience that actively participates in the discovery of their value," he says. "So the dollar is increasingly being targeted at tactics that support that objective. Next generation marketers are building Web sites based on audience interests and relevant content …. well beyond the first generation digital product brochures."
But while educational marketing objectives are opening new content marketing and service partnerships, traditional product enhancements that contribute to building audience for clients are just as important, says D'Avino. "As an example—how do we create more interactive mechanisms in print, or on the show floor? The use of QR codes and personalized URL's are proving to be effective in driving audience to desired information. Platform, creative, and messaging consultation based on our on-going audience insights is proving to be very valuable for clients."
The mission is changing. "We understand that our core value proposition is shifting from marketing message distribution to audience insights, audience attraction (to our marketer's content) and demonstrated buyer-seller connections," says D'Avino.
Many publishers find themselves taking on the role of agencies. "One of our strategies is to help mid-size clients produce content that competes with the big boys in their market," says Tom Harper, president of NetWorld Alliance. "Our approach with larger clients is to offer them an easy way to go through the same AE and expand their relationship with us to take advantage of our industry knowledge as well our connection with our audience. Their current agencies usually can't compete."
Harper says that most new dollars come from other budgets within the same clients. "We're starting to tap into money earmarked for research, events, video and even dollars that previously paid the salaries of internal producers," he adds.
Coming into 2011, Meister Media, which serves the agriculture industry, expected 69 percent of total revenue coming from print, 9 percent from e-media and 17 percent from events (with the rest coming from ancillary services). "But as the year is shaping up events are exploding and e-media is growing faster than we expected, particularly around marketing services," says president Michael DeLuca. Last year, Meister Media built a video studio as part of its marketing services push and today does custom video and pre-roll advertising for clients.
Still, DeLuca says publishers need to protect the core products that probably brought the client to the publisher in the first place. "I also feel a strong need to insulate our editors from advertising content," DeLuca says. "The reason why companies are coming to us is because of the market knowledge and the credibility we have, which is embodied in the editors."
Events Return To Form
Pre-recession, events were touted as the cornerstone of b-to-b, boasting significantly higher profit margins than print (and significantly more revenue than e-media). However, as travel budgets collapsed, so did publisher events. The good news is that many publishers are starting to see event dollars rebound.
"We've chosen to throw more of our investment toward face-to-face events where you can build a brand for your trade show or conference," says Bahr. "Successful event brands often have a high barrier to entry, can survive Internet disintermediation and have excellent margins. BZ Media will get more than half of its revenues from shows in 2011."
Meet the Author
---