When Readers Quit

The delicate art of trying to read your readers' minds.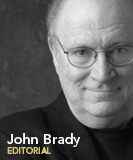 When it comes to shaping the personality of your publication, reader opinion means everything. But how do you find out what your readers are thinking? Demographics—the stuff that media kits are made of—tell you who your reader is in terms of age, income, and lifestyle patterns. But demographics don't tell you what an editor really needs to know: How am I doing?
A low renewal rate can be an editorial wake up call. Reader retention is significant not only for the economic well being of the publication but also for its future in the competitive marketplace. Advertisers begin to lose confidence when a publication's ability to deliver an audience starts to waver.
Why do readers bail? As in life, relationships can dwindle, even die, for a variety of reasons. Over the years my consulting firm has conducted numerous Reader Attitude Surveys for publications, and here are just a few reasons why readers quit:
Too much information…Not enough visuals…Same old same old. Been there, read that…the magazine is repeating itself…Too much PR. The magazine doesn't inform; it just flatters and sells…Hard to find the stories you mention on the cover…No time. Issues pile up. Feel guilty for not getting to them…Magazine doesn't live up to promises made when I signed on…I can't relate to the people in your stories…Cheap paper stock…I don't understand what the magazine is all about—too much jargon…Difficult to read…Print too small…Columns too wide…I am against the destruction of trees.
As you can see—and researchers are often the first to say—readers often make choices for subliminal non-rational reasons. Moreover, research is always after the fact. It's a trailing indicator, not a leading indicator. You can find yourself following the trend, not being a visionary. When the survey dust settled, we found that readers were unhappy when a publication failed to answer the following questions to their satisfaction:

What does your magazine do? How does it work?
What are the benefits? What will it do for me?
Will it make or save me money?
Will it save me time or work?
Will it make my life easier or better?
What sets you apart from others?
Readers generally quit for some combination of four key reasons:
They did not make enough use of publication.
They had new demands on their time.
They lost interest in the field.
They discovered a better source.
Can you bring a former reader back? Health clubs know that on average, at least 150 former members out of every 500 that leave a club are good prospects for "recapture." Clubs can entice members back with improved facilities, special rates and other lures based upon feedback from former members.
With magazines, there is always an inducement or giveaway to get readers up front; but retaining them is difficult. Now they expect more. You have to add value to what they have already been receiving. Magazines often know where they have been, and where they want to go. But how can we create a checklist for change?
Online surveys can tell you how to get there by collecting reader feedback to specific questions that you can use as part of editorial planning. Key topics to explore online: Are your covers effective? Are your regular columnists and departments being read? Do your readers want more stories? Shorter stories? More photos? More color? A different format? Are you reaching younger readers, newbies to the field?
Of course, the easiest way to avoid an editorial slump and a scramble for recaptures is to keep the reader satisfied from the outset. Bring new readers in aggressively so that they quickly become comfortable with the publication and make regular use of it as an integral part of their work or lifestyle. There is always an audience—and a market—for excellence. To borrow a line from Winston Churchill, reader tastes are very simple: they only want the best.
John Brady is visiting professional at the Scripps School of
Journalism, Ohio University. He is a partner at Brady & Paul
Communications, a publishing consultancy, and conducts editorial
workshops for professionals. For information on his Interviewer's
Handbook: A Guerrilla Guide for Reporters and Writers, his Web site is johnbrady.info, or you can e-mail him at Bradybrady@aol.com.
Meet the Author
---