What's The Status On That Jane Pratt-Gwen Stefani Magazine?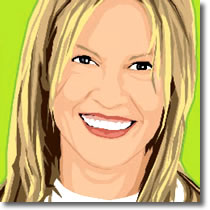 JANE PRATT: Tell me about the new record.
MICHAEL STIPE:  There's two of them. We're putting out our first live record, which comes out in mid-October. Our first ever live release, it's a DVD so it's a feature length film that was shot 2 years ago. That comes out in October, and I am going over to Europe to do press for that. But then I'm working on the new album that comes out in March probably.  And … the band, it's been a really tough ten years for us.  We at times, we're not communicating on the level that we should have been and we were trying to keep a real brave face publicly, and kind of hold through it, but I have to say I think we finally found a place of communication. We're talking to each other, we've written a bunch of great songs, we've recorded 14, I've written 14,  I've got another 4 songs to present to the guys next week when we go back in the studio and one of those is really going to surprise them.  I can't wait to see them.
As far as her rumored magazine project with Gwen Stefani, well, Pratt didn't return an e-mail seeking comment. But she recently gave Time Out New York something of a non-confirmation confirmation:
TONY: That is so Jane. Do you miss print?
Jane Pratt: No, but I can't talk about it.
TONY: Because you're starting a new magazine with Gwen Stefani?
Pratt: I'm not allowed to say! You can speculate if you want. I feel like I am working in print now.
Meet the Author
---