The use of verified circulation might be on the rise again after declining by almost a third over the last two years.
Keeping you occupied in waiting rooms across the country, verified is defined by the Alliance for Audited Media as "subscription copies designated by publishers for readership in public places or intended for individual use by recipients who are likely to have a strong affinity for the content of the magazine." Verified circulation is a tried-and-true method of audience development. As readers fall off and demographics grow fuzzy, it's been a tool to reestablish those raw numbers, especially in key audience segments advertisers are after.
But its use dropped off significantly in 2012 and 2013 though, after six years of steady adoption, according to the Alliance for Audited Media (AAM only started categorizing verified circulation separately in 2006).
As a percentage of total circulation, verified copies consistently accounted for about 12 percent of median distribution through 2011—but it had fallen to just 8.8 percent two years later.
Whether that's a trend or a blip remains to be seen. Last year, distribution did pick back up, with verified circulation accounting for 9.6 percent of total distribution. It's too soon to say if that will last.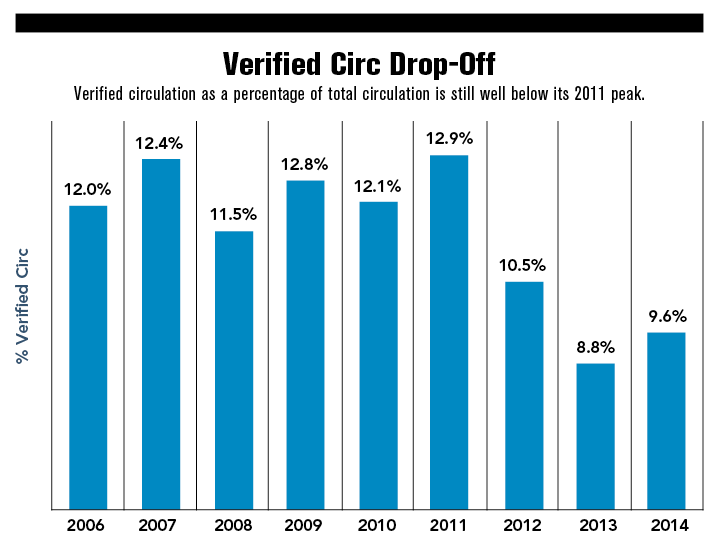 It's efficacy as a marketing tool doesn't seem to have changed much though.
Janet Donnelly, vice president of consumer marketing for Meredith, says verified circulation has always been "an incredibly effective source. We've been very successful in curating verified locations," she says. "They have calls-to-action to go online—which we're seeing more and more of the younger demos taking advantage of—or the old card insert method, so we have response mechanisms in place to identify the effectiveness."
John Reese, vice president of consumer marketing for Bonnier, agrees that it's still an efficient tool for audience developers, though he admits its overall utility may be waning because of changing reader habits.
"In a number of studies, we've been surprised about how much people actually value public place [distribution]," he says. "People really look forward to the 20 minutes they have in the doctor's waiting room where they can sit and read, uninterrupted."
He adds: "Just like it has in the checkout line, mobile has obviously had an impact on the number of people picking up magazines in public places, but when they do pick them up, they're as engaged as they always have been."
For Donnelly, the decline is just part of a larger cycle. She cites FamilyFun and Parenting (which would become part of Parents) as examples. Meredith purchased the titles 2012 and 2013, respectively, and immediately took a step back, cutting verified in order to get a better handle on their audiences. It's been integrating verified back into its source mix since then, which explains the big jumps—last year, the magazines nearly quintupled and tripled their verified audiences, respectively.
While acquisitions are uncommon, it's not out of the ordinary for publishers to rebalance their demographics using similar measures.
Another possible explanation stems from verified's use as a mechanism for rate base management. It can deliver a high number of engaged readers, but it isn't seen as an apples-to-apples substitute for paid circulation.
Implied agreements had always been around, but Reese says agency RFPs started to include formal thresholds for verified (typically around 5 percent) in the early part of this decade—right around the time of the decline.
Coupled with increasingly common rate base reductions, the use of verified circulation for pure readership numbers may just not be as necessary as it once was.
It's still too early to tell whether verified circulation is just in a temporary downturn, if it's morphed into more of a tactical tool or if it's going away altogether, but marketers need to be aware that the environment around it has changed.