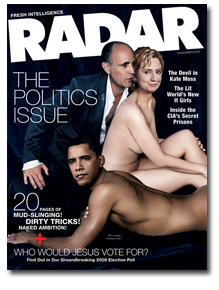 A magazine without a tagline is a magazine confused. Or, potentially, one with a reader confused. What is this magazine about? Who is it for? What is it like? Tell me, tagline!
But a bad tagline can be just as confounding. It can be misleading—like if Palms Springs Life, "California's Prestige Magazine," contained ads for Wal-Mart. It can also make you wonder what on earth the people in charge were thinking.
Take, for example, Vegetarian Times. Great magazine, but an off-putting nuance in the tagline: "great food, good health, smart living." Good health? Why not "great food, good health, decent living"? A tagline is a marketing message, which means people will subconsciously cut the positivity in half. ("Great" means "good," "good" means "okay," "smart" means "not a complete moron.")
How about Relix? It's "the magazine for music." Great, but for who? Compare to Paste's "Signs of Life in Music, Film and Culture." Instead of not telling us who it's for, it says what it's aspiring to be.
And then there's Reader's Digest: "Life Well Shared." This replaced the magazine's old tagline, "America in Your Pocket," in January. So much more Oprah.
Here's a handy chart for some other magazines:
| | | |
| --- | --- | --- |
| MAGAZINE | TAGLINE | WHAT IT MEANS |
| Success | "What Achievers Read" | "A magazine for fans of the Big Lebowski" |
| Eldr | "Celebrate Aging!" | "I'm old! Sweet!" |
| Get Born | "The Uncensored Voice of Motherhood" | "My kid could beat up your honor's student" |
| Live Design | "Envision. Build. Go. Live for Broadcast." | "Need. To. Calm. Down." |
| Coastal Living | "The Magazine for People Who Love the Coast" | "Don't Forget the Sunscreen" |
| Wondertime | "Celebrate Your Child's Love of Learning" | "Provided They Finish Their Homework First" |
| Colorlines | "The National Newsmagazine on Race and Politics" | "I read a newsmagazine you've never heard of" |
| Everywhere | "Travel is All Around You" | "Everybody Knows This is Nowhere" |
| Fretboard Journal | "Not just another guitar magazine." | "Just another guitar magazine." |
| The Word | "Intelligent Life on Planet Rock." | "Dumb!" |
| The Source | "The Bible of Hip Hop" | "The Torah of Taglines" |
| Budget Travel | "Vacations for Real People" | "Fake people don't take vacations" |
| Soundings | "Real Boats, Real Boaters" | "Did we mention they're real?" |
| Radar | "Pop/Politics/Scandal/Style" | "What/More/Could/You/Want?" |
What does it all mean? Pay attention to your tagline. Revisit it every once in a while, and make sure it still holds true. And if you don't have one, make sure you have a good reason why not.