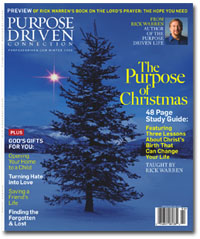 On Wednesday, Purpose Driven Connection—the quarterly published in partnership between Saddleback Church pastor Rick Warren and the Reader's Digest Association—became the latest magazine casualty of 2009 as the groups decided to move the product online-only. Until September, RDA said the title, which launched in January, was still in "development stages." After four issues it was never green-lighted for a full launch off the newsstand.
What gives? When RDA announced the launch late last year, it billed the agreement with Warren and Saddleback as one of the company's "most important and far-reaching ventures ever." Yesterday, in a statement, Warren said "impressive reader feedback has prompted us to focus all our energies on our digital format so our content can be expanded, international and free."
So, what about the print product? With a $9.99 cover price, was it a dud on stands? A RDA spokesperson called sales figures "encouraging," especially at outlets like Wal-Mart, but said the company wasn't releasing specific numbers. He told me the magazine failed to generate enough full membership buys—$29 for the quarterly magazine, DVDs with each issue, study guides and access to its Web site. Those packages were offered by the church to its immense membership base.
In other words, the lack of interest in the full package, and subsequent lack of expected revenue made Purpose Driven Connection an unattractive business for RDA going forward. They made the decision to kill the costly print magazine, and agreed to host its Web site at least through the first quarter next year.
I asked the spokesperson directly if RDA considers the Purpose Driven Connection venture a failure. Of course he said it wasn't a failure. From an operational point of view, he said that shutting down an otherwise interesting product that doesn't meet financial criteria "is every bit as important as green-lighting others to go forward." He also said RDA gleaned "proof of concept" insights into serving a community like Warren's that's bound by faith or philosophy.
"We believe that we could take this forward with a community that had a somewhat different characteristic—larger, more open to purchasing memberships, more universal, global, etc.," the spokesperson said.
More open to purchasing memberships. That might be key.
This shouldn't suggest, though, that Saddleback hasn't had any success from the venture. The church said subscribers to the Daily Hope devotions newsletter have grown to 400,000 since Purpose Driven Connection launched early this year.
If not for monetary reasons, I think the loss for RDA is substantial, despite the positive lessons it says it learned from giving it a shot. It has to be tough, especially for a company that's now steering itself out of bankruptcy,  to watch a product it called one of its most important ventures ever fail after only four issues.