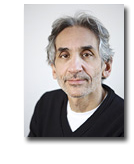 Tuesdsay's announcement that Forbes is buying entrepreneurial journalism site True/Slant may be a small deal, but the event will have a pretty significant impact on both brands going forward.
PaidContent estimates the deal in the "low single digit millions." The site launched just a year ago, after all, and True/Slant founder and soon-to-be chief product officer Lewis Dvorkin [pictured] told me Tuesday that monetization efforts only kicked in once the site reached one million uniques. "We used the first round of money to build a product, scale the contributor base and scale the audience. We only started monetization when we hit a million uniques, which was in December and January."
Yet the deal is not a bolt-on for Forbes. True/Slant's content production and ad models will be assimilated into Forbes and will kick off a significant rebuild of both the magazine and Forbes.com. The Web site is up first, says Dvorkin. "There's going to be a total re-architecture of Forbes.com—meaning a re-architecture of how it's produced, its structure, its UI and its design."
Sounds pretty much like a complete overhaul.
Dvorkin intends more than cosmetic changes for the magazine, as well. "I used to say that redesigns are more than a fresh coat of paint, you have to look at the foundation. How is content produced for the magazine? How is it produced for the Web site and how might those two play together?"
In the meantime, Dvorkin says the deal will close today, with a "good part" of the five-person team making the move over to Forbes (he wouldn't say who's going and who's not).
Of the three-hundred or so contributors who get paid on a flat-fee basis with monthly bonuses when traffic hits certain trigger points,  it's "business as usual" through June, he says. However, Forbes and Dvorkin will be scaling down the contributor network as the site transitions into Forbes. Daily Finance's Jeff Bercovici, who is also a True/Slant contributor and sat through a contributor conference call with Dvorkin, has more on this.
And, according to WWD, it appears Dvorkin might be doing some scaling down at Forbes as well. He's reportedly scrutinizing the masthead for some high-level cost cutting.