What a Time Inc. Spin-Off Might Look Like

'Bewkes is not a magazine guy.'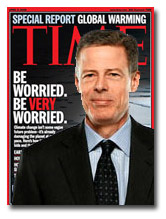 Time Warner's third quarter numbers were released recently, and while overall revenues rose nine percent over same period 2006-despite revenue declines from AOL-Time Inc.'s revenues were flat. Any gains in earnings were largely attributed to "non-magazine businesses, particularly Synapse," a customer acquisition and management service subsidiary of Time Inc., according to company financials. The numbers form the backdrop of a pending change at the top as COO Jeffrey Bewkes is set to succeed Dick Parsons as Time Warner CEO on January 1 and ongoing speculation about whether the company will spin off one or more of its divisions-namely Time Inc.
In the third quarter, a $25 million gain in advertising revenues came mostly from digital growth from People.com and CNNMoney.com, which was offset by an actual loss from print magazine revenues. Included in that loss was the closures of LIFE and Teen People, an $8 million loss from subscription revenues and a $1 million loss in "Content" revenue. So, not much top-line success.
Even before it was announced that Bewkes would succeed Parsons, speculation about Time Inc.'s future ran rampant. Now, however, Bewkes' new role with the company is raising new questions.
"Bewkes is not a magazine guy, which I think is very important," says one magazine industry observer. "He's a TV guy. And I think that when you get right down to it, the core properties that Bewkes knows about and cares about are the video and movies, not print. Because even if they invest heavily in developing new digital versions of their magazines, it's going to cost money. Meanwhile the revenue is going to continue to be flat to declining."
Reed Phillips, managing partner at DeSilva + Phillips, stresses that while commenting on Time Inc.'s future is purely conjecture at this point, Bewkes' succession will trigger a top-down examination of the corporate structure. "I do believe that everything is going to be evaluated in Time Warner by Bewkes coming in," says Phillips. "In January the clock will start ticking and there's going to be more scrutiny and more willingness to sell assets that they don't think will be helping the company increase its stock price."
While a looser divestment attitude might come into play, an industry source speculates a spin-off makes the most sense. "If you're looking at it from his point of view, you want to detach Time Inc. from the company so the chance of a spin-off is probably very high. I don't think there's a chance of a sale because I don't think anyone would buy it."
A spin-off could benefit both entities. Time Warner gets to move Time Inc. off the books as an operating unit and Time Inc. becomes a free-standing, public company. "It's an IPO, in effect," says the source.
A public Time Inc. would also be free to make more aggressive moves in the digital arena. "It would have more flexibility to do that kind of thing and also have a chance to raise its own money rather than having to fight the rest of the divisions of Time Warner for the assets," says a source. "A lot of money is being used elsewhere because people within Time Warner look at the magazine group and don't think they should invest money there, it's not worth it."
The source also speculates that a spun-off Time Inc. would likely mean the end of the Ann Moore regime. Her replacement? "I think Bewkes would put in somebody that has free-standing, public company experience. My candidate would be Susan Lyne. She's been in television, she knows Bewkes, and she's been successful with Martha Stewart Omnimedia. She's CEO of a public company. She's got the credentials."
Meet the Author
---