What a Time Inc. Spin-Off Might Look Like, Part II

After ridding itself of AOL, eyes turn to Time Warner's publishing division.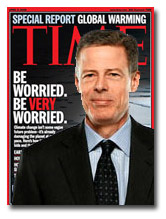 Last week, after Time Warner announced that it would spin off AOL—ending a disastrous, dot.com-era marriage with the former dial-up powerhouse—analysts and media industry onlookers turned their attention, almost immediately, to Time Inc., TW's troubled publishing arm. Would Time Warner, as some have speculated for years, want to shed Time Inc., too?
Rich Greenfield, an analyst at Pali Research, thinks so: "Unlike many of its media peers, we believe [CEO] Jeff Bewkes and the Time Warner board of directors have no emotional attachment to the assets within Time Warner. In turn, we would not be surprised to see Time Warner seek a separation or sale of its publishing division (magazines) following the AOL spin. With publishing set to represent under 10 [percent] of Time Warner's EBITDA post-AOL … and the inherent difficulties of shifting Time Inc.'s magazine business to an online subscription model, we believe it may make sense to further simplify Time Warner down to only cable networks and filmed entertainment in 2010."
But Reed Phillips, managing partner at media banking firm Desilva + Phillips, in an e-mail to FOLIO:, doesn't think the AOL spin will usher in a quick flip of Time Inc.:
I don't think the spin-off means that much to Time Inc. I believe their Internet operations are pretty independent of AOL and for areas of overlap they can work out agreements to deal with those issues. If TW decides to spinoff Time Inc., I don't think that would happen for another year. If they do so, the deal might look similar to what they are doing with AOL—particularly if the M&A market has not recovered by then.
Of course, we've heard this kind of rampant speculation about a Time Inc. spin-off many times before. In 2007, for instance, FOLIO: published this story—"What a Time Inc. Spin-Off Might Look Like"—about just that:
"Bewkes is not a magazine guy, which I think is very important," says one magazine industry observer. "He's a TV guy. And I think that when you get right down to it, the core properties that Bewkes knows about and cares about are the video and movies, not print. Because even if they invest heavily in developing new digital versions of their magazines, it's going to cost money. Meanwhile the revenue is going to continue to be flat to declining."
But according to Reuters, Bewkes "has simply said that by shedding the company's cable and internet businesses—it is spinning off both Time Warner Cable and AOL—Time Warner will be able to concentrate on 'creating and distributing content,' which would presumably include its magazines too."
Meet the Author
---