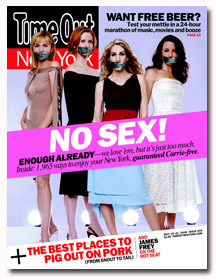 For readers of this blog outside of the greater New York City metro area, or those who haven't walked past a newsstand lately, Sex and the City—the HBO show-cum-movie opening this weekend—has taken over Manhattan. The stars of the film are on every magazine and newspaper cover, are on every morning, daytime and late night television show, and are plastered on the side of every bus and subway terminal in the five boroughs.
Time Inc.'s Health magazine had a screening of the movie last night with Kristin Davis, co-star and cover subject, serving as host. (As one Cosmo-sipping Time Inc. executive called it, "corporate synergy"—with Time Warner's HBO and Time Inc.'s Health coming together—"at its finest.")
Warning! The rest of this post may or may not contain "spoilers." Read at your own peril …
Magazines play a key role in the movie, as does print in general. Carrie Bradshaw (Sarah Jessica Parker) is an author and freelancer for Vogue; when her engagement is announced in Page Six, her editor, played by Candice Bergen, assigns her a first-person account of planning the wedding, replete with a couture photo shoot.
Funny thing is, Parker's character symbolizes the trouble magazines are facing. She doesn't text-message; she scoffs at the iPhone; she appears to be somewhat fear-stricken about "the Internet"; she has her assistant read aloud her e-mails, asking her to reroute them as if it was magic. At one point, she even refers to the Web as "cyberspace."
Yet she loves print, snatching a copy of Vogue after her wedding fizzled as if one less copy in circulation would matter. For better or worse, this is who Hollywood thinks is the prototypical Vogue reader: an aging, love-obsessed, tech-averse columnist with a weakness for Manolo Blahniks.
(According to the latest MRI figures, the average age of the Vogue reader is 35.3—virtually unchanged from 2003.)
But you didn't have to go much past the cocktail party last night to see the paradigm has already shifted, and that the Carrie Bradshaws of the world are dwindling. There were dozens of free copies of Health spread along a railing for the taking. But most of the 300 or so guests—twenty-and-thirtysomethings, nearly all women—were too busy clutching their camera phones hoping to snap a photo with Davis—presumably to upload to their Facebook pages—to care. (In another era, they'd be hoping to get her to sign their copy of the magazine.)
Like the young Sex-wannabes the characters dodge as they stumble around the Meatpacking District in the film's final scenes, potential magazine readers have gotten younger in a hurry. And they'd much sooner enroll in a luxury handbag-sharing program online as they would subscribe to a magazine.
Magazines aren't gonna get them past the velvet rope, after all.