What's Left of Gemstar-TV Guide to Sell?

Macrovision continues to explore 'non-core' TV Guide divestments.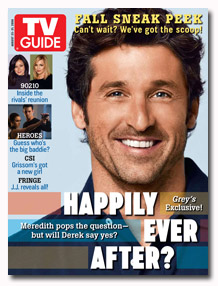 Looking back at Macrovision's $2.8 billion cash and stock merger with Gemstar/TV Guide last April, and its recent divestments of the print edition and online networks, some questions came to mind.
What was Macrovision's thinking when they bought Gemstar and has their strategy changed, if at all, since the purchase? What are they left with after the divestment of the print magazine and online network?
Do the divestments justify what they paid?
Earlier this month, the Santa Clara, California-based digital software solutions firm agreed to sell the TV Guide Network—including TVGuide.com—to film entertainment studio Lionsgate for $255 million. The agreement came about a month after it said it had agreed to sell the network to Allen Shapiro and One Equity Partners for an initial payment of $255 million and up to $45 million more in "earn out" to be paid through 2012.
Last fall, in what was one of the weirdest magazine deals in recent memory, Macrovision sold the financially ailing print edition of the magazine to TV Guide to Beverly Hills, California-based investment firm OpenGate Capital for, that's right, $1—and agreed to loan OpenGate up to $9.5 million at only 3 percent interest.
I asked Macrovision these questions. Here's what Corey Ferengul, executive vice president of marketing, wrote over e-mail:
Macrovision acquired several key assets from Gemstar-TV Guide, including worldwide interactive program guides, extensive entertainment metadata, a strong patent portfolio, and emerging mobile business.  We will continue to invest in and develop new solutions using and expanding upon each of these assets, as well as products that ultimately enhance the consumer's total entertainment experience. Which includes new offerings for CE device makers, system operators, service providers and content providers of virtually all forms of entertainment. We plan to broaden the opportunities for our combined portfolio and IP by extending our solutions for existing and new Macrovision customers.
So, it appears there are, in fact, remaining assets from the initial acquisition Macrovision believes was worth the initial $2.8 billion investment. But perhaps there's still one piece left to sell:
Macrovision has announced the sale of TV Guide Magazine, TV Guide Network and TV Guide Online. As to the remaining non-core media property, TVG, Interactive Horseracing Network, Macrovision continues to be actively engaged in exploring transactions to sell the property.
Who knew there was a TV Guide-branded horse-racing/betting site? Giddy up.
Meet the Author
---