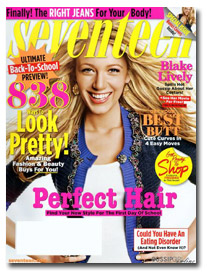 * [EDITOR'S NOTE: See updates below …]
While analyzing the results of Mediamark Research Inc.'s Fall 2008 survey,
I came across a weird stat that has got to be troubling to the
publishers of "teen" magazines and others catering to the youth
demographic:
In terms of age reach, just seven
magazines—Teen Vogue (at 25.8, not exactly teens), Seventeen (26.9, or
9.9 years older than the name implies), Vibe (28.6), Game Informer
(27.2), Blender (27.7), Maxim (29.1) and OK! (29.3)—have readers with a
median age under 30.
Putting aside the Vibes and
Maxims and OKs for a second, let's talk about the teen category. The
average age of Teen Vogue and Seventeen readers is … 26?!?! To borrow a phrase from the teenaged vernacular, WTF?!?!
No
wonder ElleGirl and CosmoGirl and Jane folded—they weren't being read
by the "girls" at all. They weren't attracting the young audience they
once had. Instead, they were being read by the young women who read
them when they were legitimately "girls."
Maybe they should change their name to Twentyseven.
UPDATE: Hearst, which publishes Seventeen, points out that the MRI survey targets adults (18+) and doesn't include magazine readers under 17. The most recent TeenMark study (measuring teens from 12-19), Hearst says, shows that Seventeen's median age reader is 16.2. I'm waiting for MRI to send over the combined average, and will update this post accordingly.
UPDATE #2: When
combined with MRI's Teenmark study of readers 12 to 19, the median ages
of the readers of the magazines above are as follows: Teen Vogue
(18.4), Seventeen (20.6), Vibe (26), Game Informer (20.6), Blender
(25.9) and Maxim (28).
It's
not just the "teen" category that is plagued with the aging reader.
It's the entire industry. Overall, the average age of a magazine reader
was 45.1—up from 44.8 in 2007.