What Pantone's New Color Specs Mean for Magazines

A Q&A with marketing VP Doris Brown.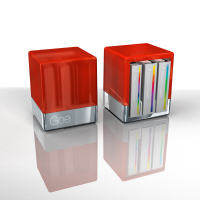 This fall, color systems provider Pantone quietly launched its new Goe Color Specification System, the company's first change to its Pantone Matching System since it was released 45 years ago. Based on a smaller set of 10 mixing bases, the system includes more than 2,000 new Pantone colors and interactive software to increase versatility.
For many magazine designers, Pantone is the industry standard color management system. How will the new Pantone colors be uploaded? Will the old colors become obsolete? To find out exactly how the new Goe Color Specification System works, FOLIO: spoke with Doris Brown, Pantone's vice president of marketing.
FOLIO: This represents the first color change Pantone has made in more than 40 years. Why now? What was the logic behind the new color system?
Brown: This was the result of one of our standard reviews of the system. The process began a few years back when we decided that we wanted to do a few different things because of all of the changes that have happened in the marketplace. Printing equipment is more sophisticated, base pigments and inks are improved and our color knowledge has expanded. We came up with a new color system based on fewer mixing bases, and added colors that we've heard from designers that they want. We will continue to keep our eye on what's going on in the marketplace and make sure that our solutions are fitting the gaps that need to be there for future production.
FOLIO: Are the previous Pantone colors becoming obsolete? Will colors that magazine designers have become accustomed to using as spot colors be unavailable to printers in the future?
Brown: The old colors are absolutely not going away. After 45 years in the marketplace, almost every company has used Pantone colors at some point or another. Taking the colors away would create a huge problem in the industry.
The new colors are completely compatible with the old color system. We think this new system offers more benefits for designers who are doing cross media production like using Flash, in Web site work or in offset lithography. The new color system gives designers more confidence that the colors you chose can be used in all the different color reproduction modes.
Designers already are mixing colors from both systems from the two systems. There are 1,114 colors in the Pantone Matching System and there are 2,058 in the Goe System. Now you have more than 3,000 colors to play with.
FOLIO: How will the new GOE library of colors be introduced to software such as Photoshop, InDesign and Illustrator? Will it be a plug-in, just a library you download?
Brown: As in the past, we make the Pantone data available to licensees for them to either put into their software or offer as downloads for their clients. Quark has already made those download libraries available to their clients. Quark clients using any version of 7.0 can go to their Web site and download the new upgrades.
For other companies that have not implemented them into their color-picking programs yet, we have a program called myPANTONE palette, which is free when you purchase the system. It enables you to create a palate for your design and you can e-mail it, share it, put it on your Web site and when you open up your design program you can open it as a named profile and it will come in as a color palate that way.
FOLIO: A number of magazine designers are still unaware that the Goe Color Specification System was released. How can they find more information about it?
Brown: We've tried to get the information to designers by doing Webinars, blogging, through trade shows and events and speaking venues including the HOW and AIGA Design conferences. We're starting to see some projects using the new system being printed now. We're creating some case studies and those will be available on our Web site, where all designers can find all the information pertaining to Pantone's Goe Color Specification System.
Meet the Author
---