What Makes a Good-Looking Site Click?

Behind the design of two award-winning magazine Web sites.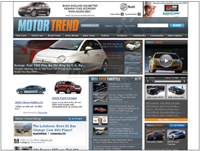 Much attention is paid to what content management system or other back-end architecture a Web site should have—and with good reason.
But a smooth-running site that looks terrible won't win readers or advertisers.
For Motor Trend, designing a homepage with eye-catching visual effects (MT users are big on photos, as automobiles are, inherently, a very visual subject) and, of course, space for ads, was no exception.
"The challenge is trying to get as much editorial content out on the homepage as possible without overwhelming the design and making it too cluttered," says Angus MacKenzie, Motor Trend's editor-in-chief.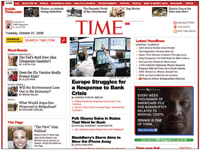 For Time.com, it meant killing "deks" on the homepage. "One of the things we came to realize was that the way people browse the Web has evolved into a 'quick-scan' mindset, which is very different from how they read print media," says Sean Villafranca, design director, Time.com. "This is why we decided to do away with story summaries and designed with headlines only."
With editors and writers, Villafranca says Time.com managing editor Josh Tyrangiel "put the impetus on them to create more compelling and concise headlines, so that they wouldn't have to rely on a dek to make it more interesting."
Wiping the Slate Clean
For Time.com's most recent redesign, launched last October, Villafranca and his team took inventory of the existing site, then established a hierarchy of how the content would be presented. "We moved blocks of content around different areas on the page to see how a user's eye would track."
Ultimately, a modular design offers flexibility down the road. "If we feel that the multimedia module should go higher on the page, we can easily do that." MacKenzie agrees: "If you are a content site, make it easy to keep it fresh. You could have the best looking homepage in the world—if it's static, it's useless."
Striking a Balance
Another challenge is striking a balance between the needs of ad sales and editorial.
"The biggest challenge we had, and will continue to have, is balancing the needs of the business side of the operation with the creative/editorial side," says MacKenzie. "We often have very different ideas about the homepage and how it should represent the brand as a whole. But the business side recognizes that the creative/editorial side is what truly differentiates the site from any other in the space—it defines the Motor Trend brand."
This is important, he says, because the lead generation side of the business is largely becoming commoditized. "The brand adds value because it creates a community of interest that will come to the site regularly," MacKenzie says. "We have seen clear evidence this recently—lead gen has been hit by the economic downturn, but the number of visitors to the homepage"—in other words, visitors who have not come to the site through search engines—"has remained strong."  
Results
Motortrend.com's traffic has grown gradually since an initial major redesign of the site in 2006, from approximately one million unique visitors and six million page views per month to more than three million uniques and 17 million to 18 million page views.
"It is hard to know what effect the design has had on the overall numbers," MacKenzie says. "Stories that reach the top of the home page flash box tend to perform better than stories that do not make it there." Adding the "Wide Open Throttle" box to the homepage—a blog-style content aggregation piece with 15-20 posts a day—has resulted in 600,000 additional page views per month.
 
SIDEBAR
5 Web Site Design Mistakes to Avoid
• Don't let designers design in a vacuum—solicit opinions from stakeholders as early in the process as possible.
• Don't get stuck on one design—try/solicit new ideas.
• Don't let ad folks dictate the direction.
• Don't get too carried away with bells and whistles.
• Don't strip away too much editorial in an effort to de-clutter the site.
Meet the Author
---