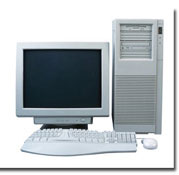 I know that sounds a little crazy.  OK, a lot crazy.  But what if print brands leave the Web, closed their traditional Web sites and moved to a model that only delivers to reader devices like Apple's iPad?
We're in the very infancy of these devices and they will change and morph in the very immediate future.  But they will become popular very quickly.  They open the door to real-time on demand delivery of content of all kinds.  Apple has already shown with music and apps that people will pay for content they want.  Their revenue numbers prove that.
By leaving traditional websites you also take away the ability for others to easily grab and reuse your content.  And as far as I can see, very few consumer content websites are profitable.
These devices open up the possibility of paid copies directly to subscribers.  If you take away the free content on traditional websites, there is only one place for people to turn for your brand's expert content.
Could it work?