What if a Leading Magazine and Events Company Suddenly Vanished?

The strange case of Pulvermedia's fall.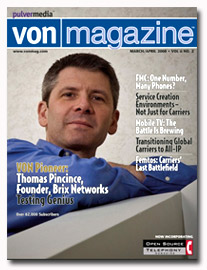 After months of widespread speculation among bloggers and observers in the tight-knit voiceover IP community—and a media blackout by its top executives—Pulvermedia, the leading media company in the space, appears to have officially shuttered its operation.
The trouble, sources say, appeared to begin earlier this year when Melville, New York-based Pulvermedia, which publishes VON magazine and produces the popular VON show, among others, acknowledged to investors that it would not be able to meet its revenue projections in 2008.
And, in a twist worthy of a John Grisham novel, TICC Capital, a Greenwich, Connecticut-based firm that had invested some $11 million in Pulvermedia in June 2007, seized the company's assets, as much as $1.7 million a source says, while its executives were in San Jose, California at the Spring VON conference.
"They pulled out in the middle of night, under the cover of darkness," said one source with knowledge of the Pulvermedia's operations. "It was a dead-stop."
Saul Rosenthal, TICC's president, did not return two calls seeking comment.
According to a March 13 SEC filing, "during the first quarter of 2008, Pulvermedia indicated that it was projecting a sudden and dramatic decline in projected revenues and earnings" for 2008. TICC, "based upon the review of the company's financial projections and operating cashflow forecasts … determined that the debt investment warranted a complete write-down, $10.3 million, and the warrants were written-off as well, in the amount of $300,000." (The same day, the company announced the hiring of an editor-in-chief, Paul Kapustka, completing "the transformation of the VON Media Group," the company said.)
In the following weeks, there were reports of undisclosed layoffs. Jason Chudnofsky, CEO of the company's events group, told Trade Show Executive that Pulvermedia was in a "silent period" during which "there would be no public discussion of the details of the reorganization." At its peak, a source said, the company employed 50 people and recently as many as 25. The VON show drew about 9,000 attendees and 350 vendors in 2006, a source said, but saw a 20 percent decline in attendance this year.
Exec Exodus, Unexplained
Meanwhile, Pulvermedia's top executives—including founder Jeff Pulver, Chudnofsky, VP Carl Ford and publisher Bill Sell—resigned, one by one, with little explanation. "Just wanted to share the news that I have resigned as a director from Pulvermedia," Pulver wrote on his blog in April. "And I am not able to say anything else nor can I address any questions about this." Ford's posted farewell was even more brief: "So long, it's been good to know you."
E-mails to these executives at accounts listed on Pulvermedia's masthead bounced. The phone numbers to the company's Melville, New York headquarters as well as its Boston and Norwood, Massachusetts offices appear to have been disconnected. Jeff Pulver, who continues to update his personal blog, did not respond to an e-mail seeking comment. Other former members of the Pulver board and advisory group declined to speak on the record.
Some bloggers, though, have publicly criticized Pulver, a longtime advocate in the so-called VOIP community, for not speaking.
Others say the onus is on TICC. "No one knows what's happening," a source said. "Why are they not communicating?"
According to two sources close to the company, all of Pulvermedia's scheduled shows, including this week's VON.x show in Amsterdam, have been cancelled while TICC tries sell the VON brand in order to recoup part of its investment. A source added that Pulvermedia's fulfillment company confirmed that the 65,000-circulation VON magazine has been shuttered, too.
It remains unclear what will happen to Pulvermedia's liabilities, including pre-paid, long-term sponsorship deals the company had for its trade shows, and the money owed to hundreds of vendors.
No one, it seems, wants to talk about it.
"Sometimes you just need to take a backseat and become a spectator of your own life," Pulver wrote in a cryptic post on his blog today. "Don't question the time, or seek any answers … Just let it unfold before you."
Meet the Author
---