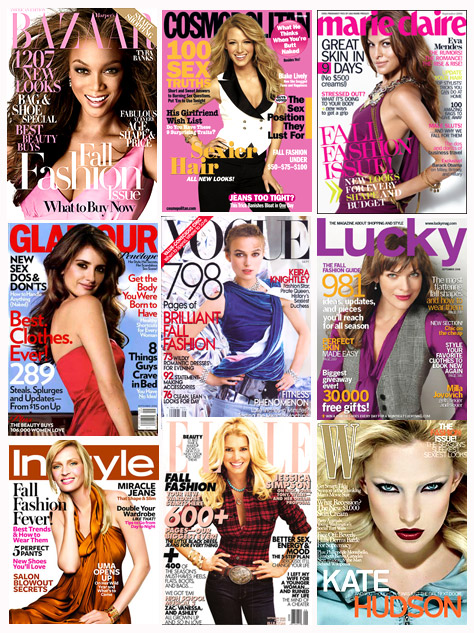 For the second year in a row, FOLIO: rang in the fall by pilfering the local newsstand (read: Barnes & Noble) of the biggest women's fall fashion issues we could carry, weighing them in the Red 7 mailroom and undertaking the entirely tedious task of counting ad pages before and after their editor's notes. It's an interesting sociological experiment for someone who rarely reads women's magazines.
Here, in typical women's magazine fashion, are 7 "hot" observations about this year's fall books:
1. Fashion magazines like their T.O.C.s to appear out of nowhere. Finding the table of contents in many of these women's magazines is like trying to find a model over 105 pounds. Finding them twice is even trickier.
2. Editorial page design (with the exception of W) is often virtually indistinguishable from the ads. It really is. The advertisers must love it, and I assume most readers don't mind either. (When you're counting ad pages, though, it becomes treacherous.)
3. Celebrities are sometimes ridiculed for their endorsements, but they certainly help with ad recall. I couldn't tell you who the Dolce & Gabbana girl is this year, but Tod's (Gwyneth Paltrow), Revlon (Jessica Alba), Gap (Liv Tyler), Damiani (Sharon Stone for some reason) and Jessica Simpson (Jessica Simpson) have all been bludgeoned into my memory.
4. The agencies repping the fashion industry can come up with some creepy creative. Like this ad, for instance: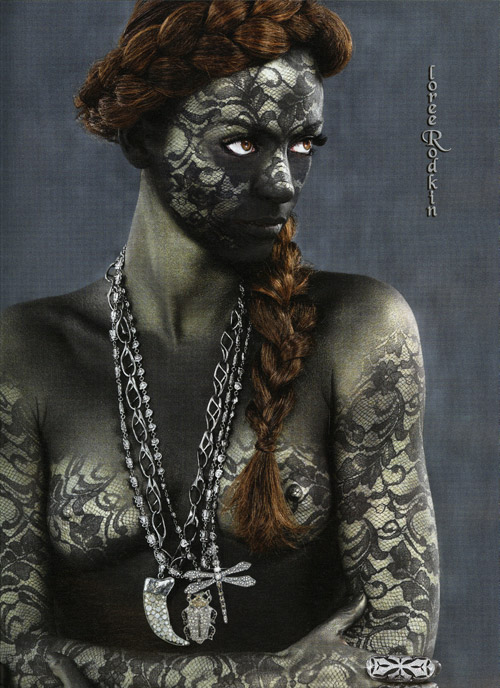 5. Women's magazines love to bury their features. Usually in the back of the magazine. Perhaps this is because they can run them without pummeling the reader with ads. Still, when Vogue's cover spread begins on page 666, or Harper's Bazaar's absurd cover "story" depicting Tyra Banks as Michelle Obama starts on 517, it proves the cover, at least editorially, far outweighs what's inside.
6. Women's magazine editors are page count cocky. But, like, say, baseball sluggers, they only appear to tout their page counts when they get above 600—of the major women's magazines, only Vogue (798) Elle ("600+ pages—our biggest issue ever!). After that, they resort to counting "new looks" (Harper's Bazaar: 1,207) or "ideas" (Lucky: 981) or "steals" (Glamour: 289).
7. Purple is in this season. Just saying.