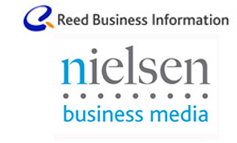 Some recent events have pointed to the acceleration of two trade publishing giants leaving the magazine publishing industry.
After a failed auction in 2008 and closing all but one of the magazines published under its Associated Construction Publications group last spring, Reed Business Information in July said it was putting its portfolio of U.S.-based titles back on the block. Last month, it sold Broadcasting & Cable, Multichannel News and This Week in Consumer Electronics (TWICE) to Wicks Group-owned NewBay Media. And this month it ceased publication of Video Business, Manufacturing Business Technology and Industrial Distribution.
When it said it was putting its U.S.-based titles back on the block, RBI said it would retain its Reed Construction Data, RSMeans, Variety, MarketCast, LA411 and BuyerZone properties. Now, it seems even flagship Variety could be sold off.
Last month, Nielsen Business Media caused a stir when it agreed to sell eight of its media/entertainment brands—including Billboard and The Hollywood Reporter—to e5 Global Media, a new company formed by private equity firm Pluribus Capital Management and financial services firm Guggenheim Partners. The publisher then decided to shutter heralded newspaper industry magazine Editor & Publisher, along with sister publication Kirkus Reviews. (E&P has since been sold to a new owner.)
Now, president Greg Farrar is leaving the company and Nielsen said it does not have plans to name a replacement. After a "transition period," senior vice president Andy Bilbao will oversee Nielsen's magazines that are not associated with trade shows, while the company evaluates "strategic alternatives."
As of today, Nielsen still publishes 19 magazines.
Nielsen—whose parent company has been focused on its ratings business—for years has reportedly been looking for a buyer(s) for its trade magazines. It's no wonder. Through the first nine months of 2009, Nielsen reported a $151 million operating loss for its business media segment, compared to an $85 million operating income during the same period in 2008. Revenues for the segment through the third quarter were $258 million, down more than 30 percent from $371 million during the same period last year.
Shortly before the New Year, FOLIO: spoke to a source with knowledge of Nielsen who said that insiders were saying the company was working on a deal to sell its three-magazine food group and said Nielsen's travel group might also be on the block. The source said Nielsen most likely would use the proceeds from the e5 deal and any subsequent asset sale to either reposition or shut down its other magazine properties.
"When business was good, publishing was not strategic to the Nielsen Company. When business is bad, they want the hell out," another knowledgeable source, who also wished to remain anonymous, told me this week. "If Nielsen sold its crown jewels, namely Billboard, THR, Adweek, etc., then why wouldn't it sell off the remainder of its publishing assets?"
I asked Nielsen's spokesperson Wednesday if the company was working on additional divestitures and if it is attempting to exit the trade magazine publishing business altogether. Her response, not surprisingly, was more of the same: "We are continuing to access the strategic fit of the remaining publications, but there are no immediate plans at this time."
It's no secret that trade magazine publishing is hurting right now and that revenues, especially from print, probably won't rebound to levels seen before the economic fallout. Perhaps the bigger issue here is if major players like Nielsen and RBI are moving away from magazine publishing, then what, if anything, does that say about the sustainability and the future of the business for the rest of us?