What to Expect of a Playboy Repositioning

CEO "committed" to print, but changes are apparently on the horizon.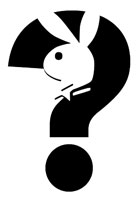 Recently-appointed Playboy Enterprises CEO Scott Flanders told me during a phone conversation this week that he is planning to announce a "strategic repositioning" of the company before the end of the year. While he was mum on sharing any details of the repositioning, Flanders' promotion of Alex L. Vaickus from executive vice president and president of global licensing to the newly-created position of president, overseeing all of the company's business operations, shows his commitment to the licensing portion of the business. (In a Q+A I did with Flanders when he took the helm as CEO, he said licensing, globally, is the company's fastest-growing and most profitable segment.)
That means Playboy t-shirts, home wear, alcoholic beverages, and possibly lunch boxes (who knows?), sold globally. Maybe even Playboy-branded night clubs, like the one inside the Palms Casino Resort in Las Vegas.
In terms of the flagship magazine, I recall a Playboy earnings call this summer when interim CEO Jerome Kern said the company was considering "radical changes" to its print business model. Those changes included price increases, a frequency reduction and lowering its rate base of 2.6 million. The company also said it would combine Playboy's July and August issues into a double issue.
A lot of these changes would make sense, especially price increases and a rate base reduction. Of the more than 30 big-circ. consumer magazines—including AARP, Reader's Digest, Maxim and Newsweek—only Playboy fell short of fulfilling its rate base through the first half of the year, delivering a total paid and verified circ. of 2,453,266, compared to its 2.6 million rate base, according to ABC's most recent FAS-FAX report.
And in terms of revenue, selling ad pages isn't cutting it, either. The magazine saw ad pages fall 30.2 percent compared to the same period last year, according to PIB figures. Hopefully increasing cover and/or sub prices should help there.
Flanders told me he is "absolutely committed" to keeping Playboy in print. But if some if not all of these "radical" changes are still on the table for Flanders' forthcoming "strategic repositioning," might it also be assumed that layoffs would be associated with those changes? Presumably, fewer people would be required to publish a smaller magazine fewer times per year.
I wouldn't doubt it.
Meet the Author
---