What Drove McGraw-Hill's 611 Job Cuts?

Hurt by subprime crisis, company's stock price tumbles $30 per share in 2007.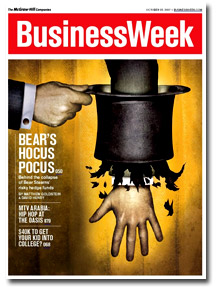 McGraw-Hill's major corporate restructuring—that included the slashing of three percent of its workforce or 611 jobs—announced earlier this week has more to do with a volatile subprime market hitting its financial services business and a declining stock price, and less to do with its information and media division, industry observers say.
And another wave may be on the way.
"Reducing staff is never an easy decision," chairman Harold McGraw III said in a statement announcing the layoffs. "But we believe the steps we have taken will strengthen our organization, enhance our ability to serve our customers and maximize shareholder value." The BusinessWeek and Aviation Week publisher's stock price has tumbled roughly $30 per share from a high of $72.50 in June, resulting in a loss of over $9 billion in market capitalization. McGraw-Hill's revenues were $6.26 billion in 2006.
And that, coupled with the subprime mortgage crisis that has led to the sacking of the CEOs at Merrill Lynch, Citigroup and Bear Stearns, among others, drove this week's restructuring, and not its print products, according to observers contacted by FOLIO:.
In December, BusinessWeek laid off as many as a dozen staffers, which are included in the 611 cuts. Yet, according to a source with knowledge of the company's hiring practices, BusinessWeek continues to seek hires in key executive positions. And the source does not expect the company to scale back hiring in 2008, despite McGraw-Hill's concession that the company is prepared to make another round of layoffs, if necessary.
Still, it's not as though BusinessWeek is infallible. The business magazine, like most of its competitors, has struggled to maintain its print advertising. BusinessWeek's advertising revenue ($185.3 million) is down 11.3 percent through the first three quarters of 2007, according to the Publishers Information Bureau. Advertising pages are off 16.4 percent over the same period [see below chart]. Fast Company, by comparison, saw an increase of 16.7 percent in ad revenue and over 10 percent in ad page growth through September, according to PIB figures. Fast Company's ad revenue—$21 million through September—is still dwarfed by BusinessWeek's haul.
It's also a familiar situation for McGraw-Hill staffers. In January 2006, the company cut 500 jobs, followed by another 600 in the third quarter of the same year.
McGraw-Hill has scheduled a conference call for January 24 to discuss its 2007 earnings results.
BUSINESS MAGAZINE AD REVENUE
| | | | | | | |
| --- | --- | --- | --- | --- | --- | --- |
| January – September 2007 | 2007 | 2006 |   | 2007 | 2006 |   |
| PUBLICATION | DOLLARS | DOLLARS | %CHG | PAGES | PAGES | %CHG |
| BUSINESS 2.0 | 24,290,188 | 35,762,285 | -32.1 | 355.22 | 556.72 | -36.2 |
| BUSINESS WEEK | 185,307,023 | 208,800,732 | -11.3 | 1,540.38 | 1,842.85 | -16.4 |
| CONDE NAST PORTFOLIO | 13,091,913 | 0 | N/A | 320.95 | 0.00 | N/A |
| ENTREPRENEUR | 70,277,025 | 70,572,996 | -0.4 | 857.95 | 925.22 | -7.3 |
| FAST COMPANY | 21,070,155 | 18,055,493 | 16.7 | 295.21 | 266.57 | 10.7 |
| FORBES | 240,705,939 | 219,910,935 | 9.5 | 2,106.28 | 2,164.10 | -2.7 |
| FORTUNE | 181,171,041 | 205,109,801 | -11.7 | 1,601.49 | 1,967.51 | -18.6 |
| FORTUNE SMALL BUSINESS | 33,920,389 | 43,681,168 | -22.3 | 315.81 | 393.30 | -19.7 |
| HARVARD BUSINESS REV. | 11,979,731 | 12,773,928 | -6.2 | 298.88 | 332.93 | -10.2 |
| INC. | 58,153,851 | 55,571,587 | 4.6 | 583.52 | 575.14 | 1.5 |
| KIPLINGER'S | 25,378,046 | 27,591,820 | -8.0 | 357.20 | 400.76 | -10.9 |
| MONEY | 100,452,617 | 111,900,366 | -10.2 | 534.09 | 671.67 | -20.5 |
| SMARTMONEY | 39,041,305 | 38,440,338 | 1.6 | 482.72 | 503.90 | -4.2 |

Source: PIB
Meet the Author
---