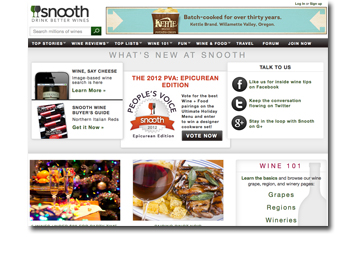 Awards programs have been a go-to brand-building tool for publishers for a long time. But in the consumer quarter, where events and programs of this nature are not quite as prevalent, the benefits may not be immediately clear—ditto for online publishers. But Snooth.com, a community-based site for wine enthusiasts, recently launched a member-driven awards program called The People's Voice Wine Awards that has resulted in audience and sponsor growth, as well as a first-time Snooth-branded event. 
The People's Voice Wine Awards was launched in June partly as an engagement platform for Snooth.com's audience, which averages about 900,000 monthly uniques and about one million registered members, and partly as a way to create a more direct connection between that audience and the community of wineries that Snooth relies on for advertising. 
The audience gets to vote on their favorite wines, which creates a peer-review alternative to the professional ratings that might be a little esoteric for the casual drinker. And, thanks to a clever Facebook tie-in that automatically attaches a like to every vote cast, wineries achieve a direct-to-consumer connection on the social web.
"In the last couple of years, wineries have been trying to go direct to the consumer and one of the ways has been through Facebook likes," says Snooth Media CEO Rich Tomko. "[The awards] are mutually beneficial for the wineries and Snooth because we want to make ourselves an authority in this space and we want to help the wineries expand their reach."
The program, which concluded mid-November, consists of 80 categories divided by type of wine and price. Each category can be sponsored, which drove incremental revenue, says Tomko, and made the awards cash-flow positive.
Online, voters have to be or become a registered member of Snooth.com and were allowed 10 votes per week and could only vote for a wine one time. The list of wines was curated by editors to an initial 1,000 and then members were allowed to add wines, which drove the list up to 1,500.
The Snooth team took two weeks to tally the 86,000 votes that came through (the benchmark was 50,000) to determine a list of finalists, which were then presented for a second round of voting.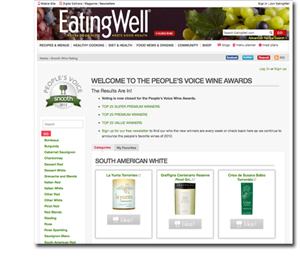 A partnership with Meredith helped in promoting the awards, with Better Homes and Gardens, EatingWell, Every Day with Rachael Ray, Recipe.com and Family Circle all contributing promotional muscle to drive audience numbers. A co-branded awards page was created to look like each brands' web site (an EatingWell example is pictured at right) and Meredith contributed further digital promotions through e-newsletters and social media.
Lastly, the awards are culminating next year in Snooth Media's first branded event to be held in New York City in March. The company currently produces about 20 custom, sponsored events per year—from 12-person food and wine dinners to 250-person tasting events—but this will be its first dedicated event. Tomko forecasts about 600-1,000 attendees for the 3-day program.