What About E-Paper? And Mobile Delivery?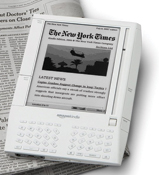 If e-paper comes to market the way that some people think it will, the digital publishing market will explode," declares Marcus Grimm, marketing director at Nxtbook Media. "It will be bigger than anything we've seen so far."
The e-paper market definitely is something to watch, as more and more publishers become interested in ways to leverage rich, high-speed digital delivery into multiple channels. The defining moment will come when a device becomes available that is not only inexpensive and portable but has a quality, high-resolution screen.
"Screen technology will get to a level of quality where reading a magazine on the device will be a very comfortable user experience," predicts Cimarron Buser, VP of marketing and product planning at Texterity, "but the first-generation devices available right now are not yet there. Their screens are black and white, with a couple of shades of gray, and that certainly doesn't offer a magazine experience."
In addition, the format should be relatively open. "People complain—and rightfully so—that the formats of the Kindle and the Sony e-book readers are proprietary," says Grimm. "The true e-paper home run will be the one with a completely open format."
Will mobile delivery come first?
Everyone's talking about mobile and lining up to deliver the content, according to Rich Maggiotto, CEO of Zinio, but mobile really hasn't taken off from an economic standpoint. "Mobile has a big future in publishing," he says, "but, again, the device must ensure an experience that's a step forward, not backward. When a small mobile device with a large, crisp touch screen and high resolution gets to the point of ubiquity, that will create the mobile publishing platform. The iPhone raised the bar for all the device manufacturers, and I expect we'll see a lot of imitators in the next year or so."
Since the iPhone is a visual device, with a large screen and a very good browser, it's possible to post a whole magazine in a visual way. Since most other mobile devices have very small screens, that's pretty exciting. Texterity, in fact, is already producing an iPhone solution for some of its clients—and the response so far has been "very positive," according to Buser. Of the 800 or so digital publications that Texterity currently produces for its clients, nearly 70 do an iPhone version. It's primarily considered a merchandising tool by these publishers, though, since generating revenue from mobile delivery has been difficult—so far.
Meanwhile, Zinio Labs, the research and development arm of Zinio, is working on the economic model and looking to understanding reader interests. Mobile delivery is still relatively expensive to accomplish, as well. Most magazine publishers—even some of the bigger publishers—can't really afford to turn all their material into articles and feeds for mobile distribution, according to Buser, even though they certainly have the content available to be leveraged on mobile devices.
Meet the Author
---