Wenner Media Strikes Content Deal with Yahoo

omg!, Yahoo Music, Rolling Stone and Us Weekly trade dedicated content pages.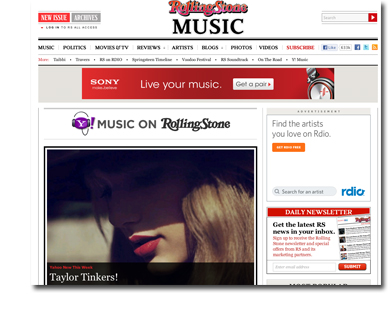 While digital content partnerships between publishers have been a common tactic for driving traffic and branding from one site to another, less common are dedicated pages shared between the two. Such is the deal that Yahoo and Wenner Media announced today, with Yahoo's omg! and Yahoo Music featuring mini-sites and blended content from Us Weekly and Rolling Stone. Likewise, UsMagazine.com and RollingStone.com will feature Yahoo-branded channels.
Taking the syndication deal a step further, Us Weekly and Rolling Stone print magazines will also feature Yahoo content.
According to the partnership, the two companies will pool editorial resources to contribute content across the sites. Wenner's Men's Journal will also provide its content to Yahoo, making it the first time the brand has appeared on the network.
The partnership gives Wenner a huge upside on scale. According to September comScore numbers, Usmagazine.com and Rollingstone.com attracted 6.7 million and 3.1 million uniques, respectively. omg! and Yahoo Music attracted 28 million and 18.1 million uniques.
Those numbers, along with the dedicated landing pages, will drive more traffic back to the Wenner brands, of course, but they also provide a key business opportunity. "Even though Us Weekly and Rolling Stone are terrific brands, the scale is relatively small in terms of the ever-increasing traffic advertisers are looking for,"  says David Kang, Wenner Media's chief digital officer. "Rolling Stone and Us Weekly often create great custom programs, but we are unable to deliver the kind of scale advertisers want."
Kang describes the Wenner brands as high-quality, boutique content sources for Yahoo's mass-market reach. "Now we're able to offer the boutique editorial treatment and all the scale you'd ever want."
The dedicated brand channels will be jointly sold. However, Wenner gets to sell Yahoo inventory for campaigns that originate via Us and Rolling Stone that get scaled up to the Yahoo sites, but not vice versa. Kang, who declined to offer specifics on the revenue splits, says the traffic differentials going back to Us or Rolling Stone are not as attractive for Yahoo.
As for the editorial resource sharing, Kang sees it this way: Yahoo has the scale and dedicated video facilities that will support Wenner's insider access to celebrities and music acts. 
Meet the Author
---