Wells Media Launches Print Counterpart to CarrierManagement.com

New quarterly print magazine follows February website launch.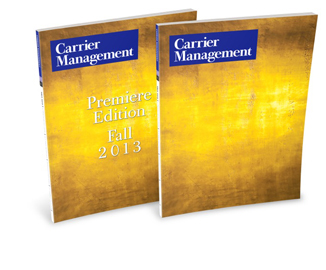 San Diego-based b-to-b publisher Wells Media, true to plan, has followed the February launch of its CarrierMangement.com site with a print magazine of the same name.
The magazine is being distributed quarterly to a hand-picked subscriber list of 12,000 property/casualty insurance executives and board members.
"We've spared no expense to create a high-impact medium for both readers and advertisers," says Carrier Management publisher Mark Wells.
The digital-first tactic, says Wells CEO Mitch Dunford, follows the same pattern as Wells Media's Claims Journal brand. The staggered launch process helps build audience for one medium to leverage into the next, and vice versa.
The first issue will feature a split run—with a subscriber version and a convention version. The latter, distributed to several conferences this fall, will feature an unconventional cover treatment—no cover lines.
Wells Media Group's vice president of content Andy Simpson says this will inspire curiosity. "We want people to be curious about it, open it up, and explore the terrific content. We want them to say, 'What is Carrier Management?'"
Meet the Author
---