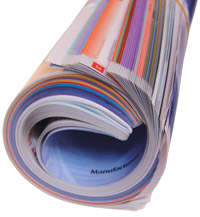 Every three months, the Publishers Information Bureau, the part of the Magazine Publishers of America which counts advertising pages and estimates rate card revenue, puts out a press release summarizing the performance for the previous quarter. And, like clockwork, the copy of that press release reads like pro-print, partisan spin. Every time. Friends, it drives me crazy.
This week's PIB release was no different. Here was the headline the MPA went with:
FOOD & FOOD PRODUCTS AND RETAIL LEAD AD CATEGORIES
IN REVENUE GAINS THROUGH FIRST THREE QUARTERS OF 2008
Yes, yes they did. One minor point the MPA chose not to highlight in the headline: including food and retail, there were a total of three—three—categories that posted revenue gains through September. Every other category tracked by PIB has seen a decline. Why did the MPA do this? Because this is what else they had to report:
Total magazine rate-card-reported advertising revenue through the first three quarters of 2008 closed at $18,452,988,859, posting a 5% decline against the previous year, according to Publishers Information Bureau (PIB).  There were 164,125 ad pages generated through the first three quarters of the year, a drop of 9.5% compared to the same period in 2007.
Now, why did the MPA choose to highlight year-to-date ad performance first? Well, that's because the third quarter was even worse:
For the third quarter, total magazine rate-card-reported advertising revenue generated $5,988,323,154, which was an 8.8% decrease compared to 2007's third quarter.  There were 52,778 advertising pages in the third quarter, a drop of 12.9% compared to the same period in 2007. 
Talk about burying the lead. It's like reading game reports by Kansas City Royals beat reporters. ("The Royals lost 12-1 again? Let's go with this headline: 'Royals Reliever Tosses Scoreless Inning'!")
The MPA is not alone here. American Business Media, the b-to-b association, is just as guilty in projecting confidence while their members are hemorrhaging print ad dollars. (They're just slow in reporting it—the Business Information Network, ABM's monthly equivalent to PIB, is only on June.)
And it's not just the associations. PR firms are also prone to passing out the Kool-Aid. After one of the recent PIB reports, one magazine flack sent an e-mail boasting that her title was flat. ("Flat is the new up, right?!?!")
I don't necessarily blame PR reps for spinning the numbers. It's their job to do that. But I don't understand why associations have to. It's not like their members don't realize how scary it is out there.
Why won't the MPA or ABM acknowledge reality? Because, like it or not, it's here. And it's not going away anytime soon.