The Weird, Developing Story Behind CNN's Breaking News Twitter Feed

It may involve Ashton Kutcher, but could be a turning point for the business.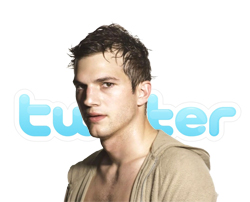 This just in to the FOLIO: newsroom …
Perhaps you've heard about Ashton Kutcher (the actor known for such Oscar-nominated films as Dude, Where's My Car?) and his battle with CNN in the race to reach one million "followers" on Twitter. Kutcher has offered his "millionth follower" a copy of Guitar Hero and 10,000 nets to fight malaria in third world countries. Seriously. Electronic Arts, the video game producer, upped the offer to include a role in an upcoming video game for the lucky "follower."
Hundreds of news outlets, including CNN itself, have picked up the story. (The media, much like Americans, always loves pitting "this versus that," especially when it involves the unlikely husband of Demi Moore and creator of Punk'd.)
What you might not have heard about is the fact that, up until yesterday, CNN did not "own" or operate the Twitter feed—"@CNNbrk"—that Ashton Kutcher has been racing against.
James Cox, a San Francisco-based "Technologist, Photographer, Raconteur," as he describes himself on his personal Twitter page, created the CNNbrk account shortly after Twitter launched as a "way to send breaking news to his cellphone."
Yesterday, Cox confirmed to TechCrunch that CNN had acquired the account, recalling all of those cybersquatting cases that bubbled up during the dot.com boom.
But, as a TechCrunch commenter quickly pointed out, "user name squatting" is against Twitter's terms of service, which led to some degree of backpedaling on CNN's part:
CNN has confirmed that it has taken control of the CNNbrk account, though the company isn't viewing it as an "acquisition." Rather, CNN has signed James Cox to a consultant contract agreement, which included the transfer of the account as part of its conditions. Any financial compensation due to Cox is being offered for his services, which happen to include his Twitter account along with teaching social media workshops, among other things (though I suspect he's getting paid substantially more than the market rate for his consulting).
It isn't clear what implications this has for the future of doing business on Twitter, but you can be sure it won't be the last case of Twitter-squatting you'll hear about.
Meanwhile, for those of you Tweeping score, Kutcher (961,581) trails "CNNbrk" (971,307) by about 10,000 followers.
Meet the Author
---