The Week Debuts New Cover Design

Newsstand-friendly treatment an attempt to drive more single-copy sales.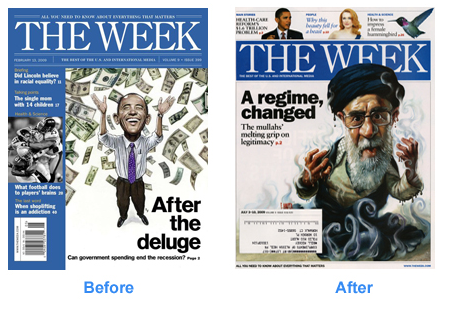 The Week quietly debuted a new cover design for its June 26th issue.
The design brings the cover in line with its UK and Australian versions
while also leveraging some of the newsstand magic the magazine has
outside of the U.S. where it is  primarily a subscription-driven
publication.
According to U.S. publisher Jed Hartman, the English team had
initiated a redesign to capture more single-copy sales in that
country's much more dynamic newsstand environment. "Our brethren in the
UK had been experimenting with different covers, which we were involved
with as well," he said. "They have a much higher newsstand presence
than we do. Here, we're a more subscription-driven publication, but the
new format is more newsstand friendly. We also, as a global brand,
wanted to remain uniform."
The new design drops the left "sidebar" format, instead placing
cover lines across the top of the masthead where newsstand browsers are
more likely to see them. The leftover space also created an opportunity
for bigger coverline treatments.
While the sidebar may have been less noticeable on the newsstand, it
did provide a specific function: It acted as an unofficial table of
contents, which the magazine doesn't have. "Readers tend to read The
Week from cover to cover," said Hartman. "Although we do like to give a
little guide to the reader and that's what the sidebar did. So we moved
that [function] to the top of the magazine."
The magazine's subscription-driven model can't be overstated.
Published 48 times per year, The Week has a total paid and verified
circ of about 516,000. Its newsstand sales average only .4
percent—about 1,800 copies—according to the December 2008 publisher's
statement with ABC.
According to Hartman, the new design was a "tweak," but a
significant one. "This was a major change. We're a formatted magazine
that's working, so we're very careful about what we change," he said,
adding that it's always better to make changes when a magazine is
enjoying some success. "Tweaking a product when it's doing well is a
strategy we'd rather do than to completely overhaul it when it's not
doing well."
Meet the Author
---