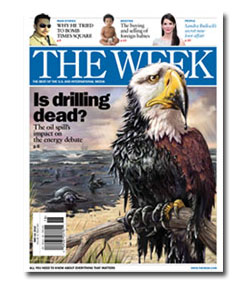 The Week has been a bright spot in consumer magazine publishing since it launched in 2001, and was one of the only magazines to continuously increase its advertising pages through much of the economic recession. Through the first half of 2010, the magazine has increased ad pages by 10.3 percent, according to Publishers Information Bureau figures.
And its growth continues in other areas. According to president Steven Kotok, the print magazine is gearing up to raise its rate base again in 2011 from 500,000 to 510,000. It also will be raising the price of gift subscriptions by 17 percent next year. Kotok says the magazine currently offers a bundled "two-for-one" deal for $69.
"Our largest source of new subscriptions is from current subscribers introducing The Week to friends, family and colleagues, and that activity just keeps increasing," he says.
Online, the brand has effectively tripled its audience over the last 18 months. In January 2009, TheWeek.com averaged more than 330,000 unique visitors and roughly 1.28 million page views. Last month, the site pulled in more than 1.35 million uniques and 3.5 million page views.
On top of seeing a strong amount of returning visitors coming directly to the site each day, TheWeek.com is getting a lot of its traffic from links from other sites. "We see a lot of links to our content from Yahoo News and AOL News—sites that report news events but link to our content for those of their readers seeking a further multiperspective 'opinion take' on the news," says Kotok. "And we see a lot of traffic from links from opinion sites such as Real Clear Politics, Hot Air, Talking Points Memo, Salon and DailyKos."
Kotok says the linking raises TheWeek.com's profile with Google, and as a result the site also is seeing an increased amount of traffic from search.
Online Accounts for More Than a Third of Profits
Initially, as did other publishers, The Week considered selling advertisements on its Web site as a small add-on for print buys. Today, though, roughly 35 percent of the brand's profits are generated online. Kotok says a big contributor to this is landing major advertisers that aren't buying into the print magazine, like BMW and FedEx, to buy ad schedules online.
"We see online revenue rising by 50 percent in 2011 and 33 percent in 2012," he says.
Content-wise, Kotok says TheWeek.com is planning to launch a new "Election" page later this month and is developing several "multiplatform programs" which he declined to describe in further detail.
"Even though we are considered new and innovtive, we actually put a lot of effort toward not changing what's already working and toward staying true to what makes us unique," he says. "And most importantly, focusing on what's best for our business in the long term. There are so many pressures in this business to make compromises on those principles for short-term benefit, but compromise is not what has gotten us to our successful position today."