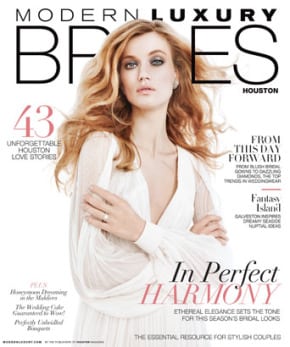 In late September, Modern Luxury Media announced it was removing the term "Brides" the titles of its nine regional wedding magazines and replacing it with "Weddings." The move, aimed at being more inclusive of same-sex marriages, was lauded in both social media and industry circles alike as an example of a publisher updating its model to keep in tune with the times.
But not so fast, says one Houston-based publisher.
Weddings in Houston, LP, publisher of an eponymous biannual wedding magazine, has filed suit against Modern Luxury, citing "malicious, willful, fraudulent, and deliberate infringement" of its federally registered "Weddings in Houston" trademark, false designation of origin, and unfair competition under the Lanham Act, according to court filings obtained by Folio:.
Essentially, the plaintiff alleges that the title Modern Luxury Weddings Houston, given the prominent branding of the terms "Wedding" and "Houston," is similar enough to Weddings in Houston as to mislead or confuse consumers.
The suit, filed in the Houston Division of Texas's Southern District, seeks $75,000 in damages and an order compelling the Modern Luxury publication to drop "Weddings" from its title.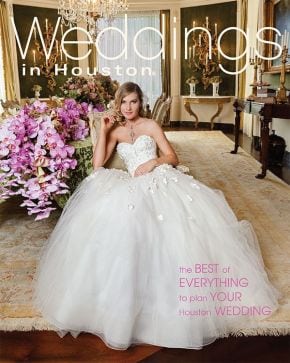 The name change, according to a Wall Street Journal report at the time of the announcement, is expected to take effect in the upcoming December issues across Modern Luxury's weddings portfolio, which also includes titles in Atlanta, Chicago, Dallas, and California, among other markets.
The court filing notes that, while the defendant's website remains branded "Modern Luxury Brides Houston," the brand's Facebook page has already been updated to reflect the new name. The Weddings in Houston publisher says it became aware of its competitor's name change when alerted by clients.
Weddings in Houston filed a motion November 16 that seeks a preliminary injunction preventing the defendant's December issue from using the disputed title while litigation continues. The motion goes as far as to claim that the Modern Luxury title is referring to itself as "Weddings Houston" when doing business, confusing vendors and advertisers.
While the motion is considered, the two sides are next due to appear in court on December 7.
Neither Modern Luxury Media, Weddings in Houston LP, nor their representatives responded to requests for comment.