Webtrends Buys Reinvigorate

Deal gives Webtrends realtime measurement technology for its analytics services.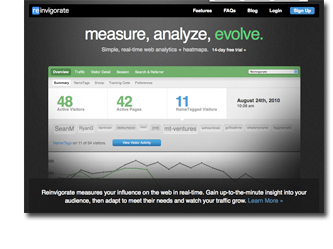 Web, mobile and social media analytics company Webtrends has acquired Reinvigorate, a realtime Web measurement firm.
The deal gives Webtrends realtime measurement technology it can apply to its portfolio of measurement services for the Web, mobile and social media platforms.
Webtrends bought Reinvigorate from (mt) Media Temple Ventures, which also owns or has investments in Krop.com, Vantageous.com and Virb.com. (mt) Ventures' portfolio is squarely in the creative market, with its three remaining companies servicing creative professionals with a job site (Krop), an ad network targeting creatives (Vantageous) and a build-your-own-Web site solution (Virb).
Terms of the deal were not released, but Webtrends is clearly keen on integrating Reinvigorate's realtime analytic capabilities across its services. Aside from the realtime analytics, which update on the spot, visible in an auto-updating dashboard, Reinvigorate also provides heat map analysis, registered user identification and tracking, link maps and visitor path analysis.
"This is just the first step in an ongoing partnership with Webtrends," says Demian Sellfors, (mt) Media Temple Ventures CEO, in a statement. "We will continue to collaborate to ensure that Media Temple also benefits from this marriage of technologies through a future offering of Webtrends analytics directly to our Media Temple customers."
Meet the Author
---