WebMediaBrands to Sell Internet.com for $18 Million

Pending sale to mark company's exit from tech business sector.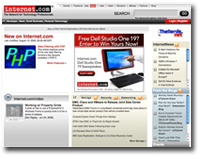 Mediabistro.com owner WebMediaBrands said Monday it has agreed to sell its Internet.com division to vertical media and marketing firm QuinStreet Inc. for $18 million in cash. The sale effectively ends WebMediaBrands' standing in the online tech trade business sector.
WebMediaBrands' board of directors unanimously approved the transaction and recommended that the company's shareholders approve it, too. The company said the deal is not subject to a financing condition and is expected to close free of taxes.
According to chairman and CEO Alan Meckler, the sale will "significantly improve our balance sheet and at the same time allow us to focus on growing b-to-b communities in the non-tech space." Meckler and a number of other shareholders—who collectively hold a roughly 40 percent stake in the company—have already agreed to support the deal, the company said.
In April, WebMediaBrands, the company formally known as Jupiter Media, folded its two bi-monthly design magazines: Dynamic Graphics+Create and Step Inside Design. The closures effectively marked the company's exit from traditional print publishing.
WebMediaBrands will continue to produce Mediabistro.com, Graphics.com and their related job boards.
Meet the Author
---