WebMD the Magazine Gets Redesign, Increases Distribution

100,000 more copies to be sent to doctor's offices.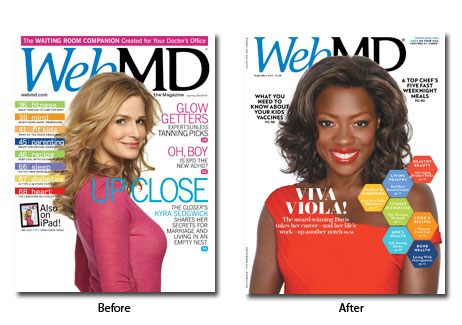 Healthy living title WebMD the Magazine is reintroducing itself this September with a redesigned publication.
"We wanted to modernize the look and feel of our site so we thought it was a really good time to refresh the magazine," says Heidi Anderson, publisher of the magazine. "From a content perspective, we've re-examined the architecture of the magazine to create six distinctive sections that are even more closely mapped to our website."
Through a combination of frequent readership polls and syndicated research of audiences, the title chose six topics that were of greatest interest to readers—both in print and online—and made them the focal point of the reimagined product. The brand is now broken up into the sections of living healthy, healthy beauty, family & parenting, food & recipes, fitness & exercise, and WebMD Checkup.
"WebMD Checkup is an inside look at our patients and consumers that are living with a condition," says Anderson. "It's a core health section, and we also have a feature well. We wanted this new architecture to create a seamless experience that even better maps to our content on the website."
Topics from WebMD online communities will be explored in detail in the print magazine—an effort to further incorporate audience desires and social conversations into the editorial focus of the brand.
"Each page will have almost social cues for the audience," says the publisher. "We'll marry the expert opinion or answer to a question that may have popped on WebMD's community board. We can use the magazine as a place to bring together expert input along with topics that we know consumers are most interested in."
Beginning in January 2013, WebMD the Magazine will increase its distribution by 100,000 copies. According to the most recent Fas-Fax report from the Audit Bureau of Circulations for the period ending June 30, 2012, WebMD the Magazine had a total analyzed, non-paid audience of over 1.3 million, with about 32,400 coming in the form of digital replicas. WebMD.com recieves about 106.9 million unique visitors per month.
"The increase came through a combination of demand from readers and healthcare professionals," says Anderson. "We continue to look for opportunities to expand our print circulation as well as digitally. We launched our iPad app, which was an answer to reader demand for the magazine outside of their doctor's office."
There are several new interactive components through the free iPad app, including expert questions readers should ask doctors; beauty shopping lists; videos; slideshows and online tools. The app will reflect the redesigned magazine look and feel, and included embedded interactive enhancements from WebMD.com
While the iPad app and enhanced content sections give advertisers more options, the company is also looking to reach these groups through special interest publications—WebMD Diabetes launched this year, as did WebMD Campus.
Meet the Author
---