At Mequoda Summit Boston in October, Web conversion architecture was top of mind. During one session, Mequoda managing partner Don Nicholas offered a deep-dive into 12 specific landing pages that convert. The session's primary focus: how publishers can build out rapid conversion landing pages—low-risk transactions, both for free and optional payment offers—to provide content and resources, and most importantly, gain subscribers.
The thinking behind low-risk offers via RCLP page optimization is that the more products given away in exchange for an e-mail address, the broader an audience. "The better your conversion rate, and the more contextual opportunities you offer them to give you their e-mail address, the larger your e-mail list will become," Nicholas said.
RCLP in Practice
Both HRhero, a 12-year-old state-specific employment law resources for HR managers, published by Brentwood, Tennessee-based M. Lee Smith Publishers, as well as music publisher Premier Media, use landing page optimization, albeit differently, to convert readers.
Premier Media utilizes conversion architecture on most of its landing pages, but specifically on the Premier Guitar homepage. A rotating picture screen on the top left of the page draws readers into magazine content where they can register to become digital subscribers. It also offers giveaways for which readers must register, prominent links to the digital magazine with a digital blow-in card offering free subscriptions, as well as free whitepapers.
"We're philosophically and operationally committed to free electronic access to our current and archival content for both Premier Guitar and our network Guitar Edge," says CEO Peter Sprague. In addition to capturing readers with a broad stable of media, a RCLP floater ad moves across the homepage screen when users come to the site, and has been "cookied" so it won't appear more than once. Sprague says that these floater order forms see good conversation rates. Premier has used these rapid conversion techniques for the past two years and is now deploying similar ones on Guitar Edge, the company's newest, instruction-oriented multimedia network, which launched in August. These tactics allow Premier Guitar to capture 8,000 to 11,000 registrations per month, and about 5,000 on Guitar Edge.
Even Sprague is surprised by the amount of information readers are willing to give for the "free" proposition. "We push the envelope on the number of registration questions (anywhere from eight to 24) and are astounded by the fact that only 18 percent of those who click to registration pages abandon before completion," he says.
HRhero developed its site about a decade ago as support for a state-specific newsletter product; currently, its traffic is north of 300,000 page views per month and around 125, 000 visitors. Guy Cross, vice president of marketing for M. Lee Smith Publishers, says they offer e-zines, PDF whitepapers, and content specifically about employment law in front of the password login.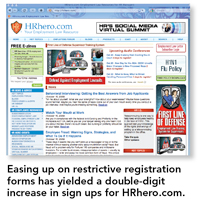 HRhero's homepage "lacks the interstitials, or floaters, but still makes sure to put content and lead gen offers in the 'heat maps' where readers' eyes will be," says Cross. The upper left corner of HRhero.com has a free e-zine offering, while the upper right includes a login area and below that, a free whitepaper offer. E-zines convert at the highest rate, with white papers close behind, he says. The site offers four different e-zines to build out segmented audiences.
Recently, HRhero has made an effort to ease up on the restrictive registrations. They used to make "users enter everything, including things like their fax number," says Cross. "It was just crazy." Now subscribers enter their name, e-mail address and state (on some offers), yielding "a double-digit increase in registrations."
Why Perform an A/B Test
Optimizing landing pages, of course, would be futile if it weren't for the ability to measure results through A/B testing. During one Mequoda Summit session, Business & Legal Resources CEO Bob Brady said: "Testing is a no-brainer." Changing a single word in his ads has increased conversion rates by three times the original. "In the golden age of direct mail, there was a lot of A/B testing—headline, color, copy—and it worked," says Brady. "The problem was that it could take four to five months to analyze the results, and the cost of so many versions was high."
Business & Legal Resources' product manager, Josh Baker, shared one of their multivariate tests with attendees. It showed that one of the publisher's e-mail registration pages sees 3,000 monthly visitors with a 37 percent conversion rate. With a few copy and design tweaks, the winning combination brought the conversion rate to a 63 percent conversion rate, Baker says.
SIDEBAR
5 Ways to Improve Site Conversion Rates
The ABCs of effective page optimization, care of the Mequoda team:
OFIE (order form in editorial): An embedded subscription form that appears on Web pages either to order a product or service, or more likely to sign up for an e-mail newsletter.
OFIN (order form in navigation): Smaller than OFIEs, these are online order forms that generally appear in the navigation panels of a site. The end user fills them out to order
a product/service or sign up for an e-newsletter.
FOF (floater order forms): Forms that appear to "float" onto a Web page. Unlike a pop up ad, a floater doesn't
open in a separate window so it can't be blocked or banned.
RCLP (rapid conversation landing page): Also known as
a conversion landing page, they are used to entice a user
to enter into a low-risk transaction (no cost to the user/bill me later option).
ECR (email conversation rate): Collecting e-mail addresses from multiple places on your Web site to build your list.