Web Photo Service Allows Photographers to Set Own Price

Founders want to revolutionize industry, compete with Getty, Corbis.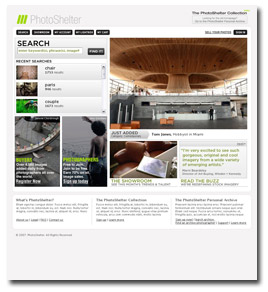 Since its launch in 2005, PhotoShelter.com has functioned as an online photo storage house for more than 18,000 photographers all over the world. Now, the New York-based start-up is hoping to compete with image archive powerhouses Getty Images and Corbis as an online image-selling marketplace with its PhotoShelter Collection service.
"We want to revolutionize the industry by opening up our platform to every photographer in the world with a good enough camera and good enough ideas to create what we consider to be commercially viable imagery," says former Vibe Vixen photo editor and PhotoShelter director of photography, Megan Ziegler-Haynes.
Ziegler-Haynes, along with PhotoShelter's five co-founding photographers, launched the PhotoShelter Collection to buyers late last month and the service already includes more than 7,000 photographer accounts and more than 300,000 images. The PhotoShelter Collection is marketed to all types of image buyers, including magazine, newspaper and Web publishers. "The PhotoShelter Collection combines the diversity of [online photo sharing application] Flickr with the instant purchasing, support and functionality you would find at a mega-agency," Ziegler-Haynes says. The New Yorker, Spin and Travel + Leisure have already tapped the month-old service.

On the PhotoShelter Collection Web site, professional and amateur photographers are invited to submit their digital photos at no charge, and editors review the images and decide which will be featured on the site. The service's fast-growing stable of photographers can be attributed largely to its contract, which allows photographers to set the selling price for their photos and pays them 70 percent of the profit. Average prices are between $200 and $300 per image.
"We are the only site to allow photographers to price their own imagery so we've been excited that the pricing has naturally fallen in line with industry standards," Ziegler-Haynes says. "Locked pricing schemes potentially devalue an image. We believe that good images should be able to be sold at a fair price."
Meet the Author
---