Web Analytics Service Targets Trade Publishers

Demandbase Professional matches IP addresses with detailed company info.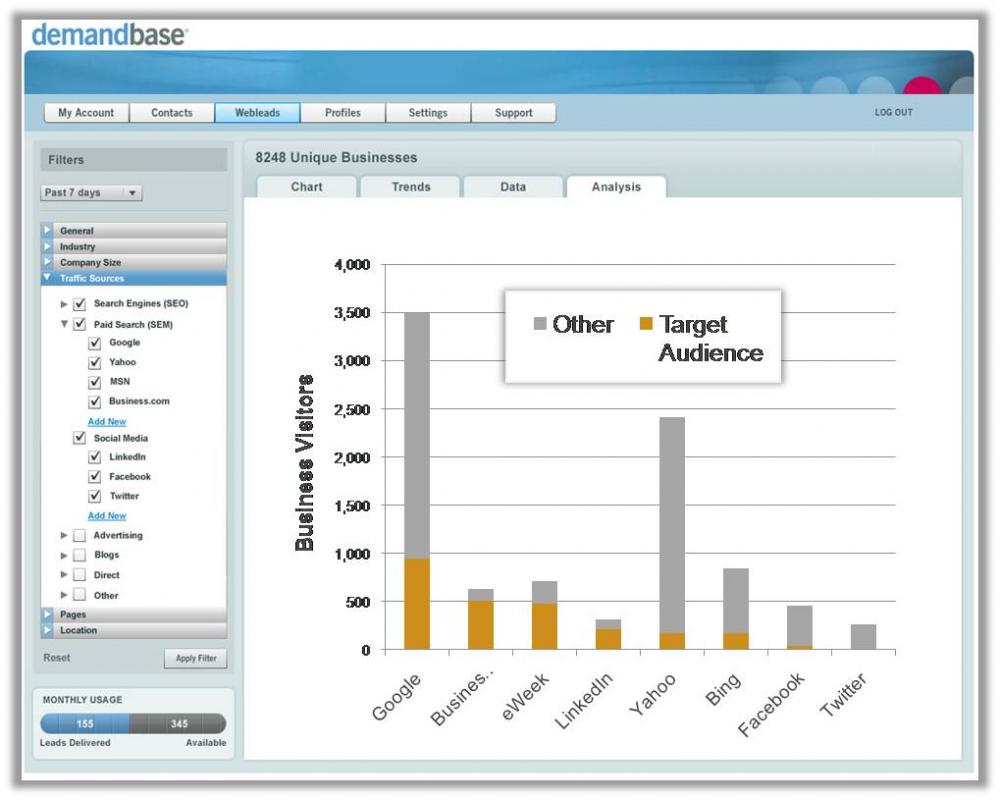 B-to-b magazine publishers now have another tool for proving the quality of their online audiences, in real-time. Demandbase Inc. recently launched its Demandbase Professional Web analytics service that uses IP addresses and target audience profiles to organize visitors based on the company they work for, their interests, behaviors, industries, company size, company revenue and responsibilities.
"Saying that you have a million visitors means a lot less than saying you have 147,000 visitors from financial services, for example, and from companies of a specific size," Demandbase CEO Chris Golec told FOLIO:. "Print media always had a handle on their subscriber lists and who their readers are. Online, however, it's been reduced to a number of clicks or duration of visits with no comprehensive or real-time view of what that audience looks like from a business perspective."
Demandbase sets its service apart from other online analytics services, including Truviso, because it does not track visitors' personal info or behavior across sites or ad networks, is used by sales and marketing departments (not IT), and targets b-to-b clients, not b-to-c.
"In the consumer world, every click represents a potential buyer, but in the b-to-b world you need to know what percentage of your traffic represents your target audience," Golec said. "Until you know that, it's hard to know where to reallocate dollars, where to spend more or spend less. "Demandbase allows publishers to know how many clicks are coming from their and their advertisers' target audience. They can then use it to help shape advertisements, to further develop their audience and for new advertiser acquisition."
Demandbase Inc. was founded in 2006 and rolled out the Demandbase Professional service this fall. "Basically, we built a back-end data platform in partnership with and using information from groups like Dun & Bradstreet, Hoovers, Harte-Hanks," said Golec. "It amasses their data, reorganizes it and creates what we think is a best-in-class business information database that maps that data from Internet registry and IP addresses. We provide our clients with a snippet of code, Javascript, that gets pasted into the HTML of a Web site, either on one page or across an entire site."
A handful of trade magazine publishers are already using Demandbase Professional, including Penton Media and Ziff Davis Enterprise.
"Among trade publishers, there not only is a need to grow our audience but to grow the quality of our audience," said Carine Roman, Ziff Davis Enterprise's senior vice president of business management and operations. "Demandbase helps us achieve both those goals. As publishers increasingly become lead generation companies, this helps us strengthen our database—which has been built primarily from our magazines and newsletters—and saves us money in collecting those names."
Roman said Demandbase allows Ziff Davis Enterprise, which serves the IT industry, to determine what segment of its online audience is working in IT but within specific markets, like healthcare for instance. "That's helpful when having conversations with advertisers," Roman said.
Demandbase's pricing is based on clients' online traffic volume. "A small publisher can get started for hundreds of dollars a month while a larger publisher with, say, more than 10 million visits a month, might spend thousands of dollars a month," Golec said.
Meet the Author
---