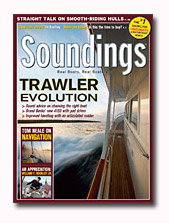 Now that Landmark Communications is said to be in exclusive talks with a consortium made up of NBC Universal and private equity firms the Blackstone Group and Bain Capital about the acquisition of the Weather Channel, attention in the media world is beginning to shift toward the potential sale of Landmark's Dominion Enterprises, the company's publishing division.
Formerly known as Trader Publishing, Dominion Enterprises was established in September 2006 following a division of assets between shared owners Landmark and Cox Communications. The company owns and operates more than 500 Web sites and magazines, including boating industry titles Soundings, Soundings Trade Only and PassageMaker.
In January, Norfolk, Virginia-based Landmark retained investment banks J.P. Morgan and Lehman Brothers to assist in exploring strategic options for the company, indicating that a sale of all of its individual businesses, including Dominion, was possible.
Landmark already has started distributing information to potential buyers interested Dominion Enterprises, according to a Financial Times news report . Last year, Dominion's revenues were nearly $1 billion. The company could fetch about $1.4 billion on the market. A Landmark spokesperson did not return a request for comment.
"If Dominion can sell everything in one transaction, that would be best so they are not left with small individual titles. They cover quite a few market sectors," Berkery Noyes managing director Chris Shannon wrote in an e-mail to FOLIO:. "It is hard to tell what price they will command but as we've seen in recent transactions (even the Weather Channel potential sale), buyers need to be realistic in their expectations. Super-high multiples in traditional media are not as common as they used to be."
Earlier this year, analysts said a sale of the Weather Channel could top $5 billion. More recent reports put the sale closer to $3.5 billion.