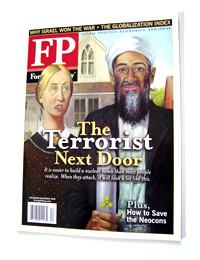 Newsweek publisher the Washington Post Company has acquired Foreign Policy magazine and its accompanying Web site from Washington, D.C.-based Carnegie Endowment for International Peace. Terms of the deal were not disclosed.
It was not immediately clear if any layoffs are associated with the acquisition. A WPC spokesperson did not immediately return a request for comment.
However, according to a knowledgeable source, Foreign Policy managing editor William Dobson was laid off last week. He had been with the magazine for four years.
Editor and publisher Moises Naim will stay with the magazine as editor, the WPC said in a release. Longtime Washington Post editor and foreign correspondent Susan Glasser has been named executive editor.
As part of the deal, Foreign Policy will become part of the Washington Post Company's Slate Group, which produces Slate, an online news magazine.
Foreign Policy was launched as a quarterly journal in 1970. In 2000, it was relaunched as a glossy bi-monthly. The magazine has a 100,000 circulation and publishes eight foreign-language editions.
WPC reported first half 2008 net income of $36.5 million, plummeting 73 percent from $133.2 million during the same period in 2007. Revenue, however, was $2.1 billion, up 7 percent from the same period last year.