The Washington Post Co. Plans to Expand Foreign Policy Brand

Hires CEO to oversee the newly-formed FP Group.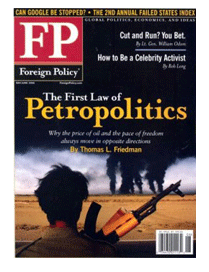 The Washington Post Company has announced the creation of a new operating unit, called The FP Group, to center around the title magazine and expand the brand's reach into live events, education, books and research services.
David Rothkopf, a long-time Foreign Policy contributor, will join the company as CEO of the FP business while remaining chief executive of advisory firm Garten Rothkopf. The FP Group has formed a strategic alliance with Garten Rothkopf to develop said events as well as educational and research services.
"To hire a world-class person like David Rothkopf is a real sign of the company's commitment to build a world-class business around Foreign Policy," says Susan Glasser, who will remain in her role as editor-in-chief.
Glasser joined Foreign Policy in 2008, when the Washington Post Company acquired the magazine for an undisclosed sum from the Carnegie Endowment for International Peace. At the time, the 100,000-circulation, bi-monthly magazine—which launched as a quarterly journal in 1970—joined the company's Slate Group.
Since then, the magazine has upped to seven issues per year and has shifted a substantial amount of attention to producing a "daily online magazine," increasing web traffic from just under 10 million page views a year in 2008 to 165 million last year. According to Glasser, the site now averages more than 2 million unique visitors and anywhere from 12 to 15 or more million page views per month.
"If you want to shape the conversation, you have to take part in it every day," says Glasser. "We've seen very large growth in our audience and a real sense of the enormous journalistic opportunity for a publication that wants to double-down on international reporting, analysis and insight in the digital era when all too many American publications are pulling away from that."
According to Glasser, the formation of The FP Group and the hiring of Rothkopf "represents a big commitment by the Post company to try to create a business around Foreign Policy that is as ambitious as the publication has become."
Meet the Author
---