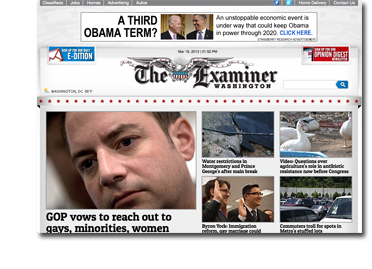 Denver-based Clarity Media Group is announcing some changes to its Washington Group portfolio, which includes the Washington Examiner, conservative magazine The Weekly Standard and Red Alert Politics.
The Examiner will transition from a daily news format to a weekly print magazine offering coverage and commentary on politics and policy. The company has also hired prominent magazine publishing consultant Lou Ann Sabatier as CEO of its Washington Group.
The final issue of the daily will be published on June 14, with a new website and the weekly debuting on June 17 and 20, respectively.
The magazine's circulation will be 45,000, targeting government, public affairs, advocacy, academia and political professionals in the D.C. area and state capitals.
Along with the new format and frequency, there will be staffing cuts. The company did not initially specify how many, but editorial and operational staff will be impacted "significantly," says the announcement.
"Many of the business and editorial positions needed to publish a local daily newspaper are not required as we move to focus on national and political coverage," says Ryan McKibben, president of Clarity Media Group, in a statement.
Going forward, the company plans to add 20 positions to support the magazine and its digital platform.
Clarity Media Group also owns Colorado's The Gazette and local website network Examiner.com.